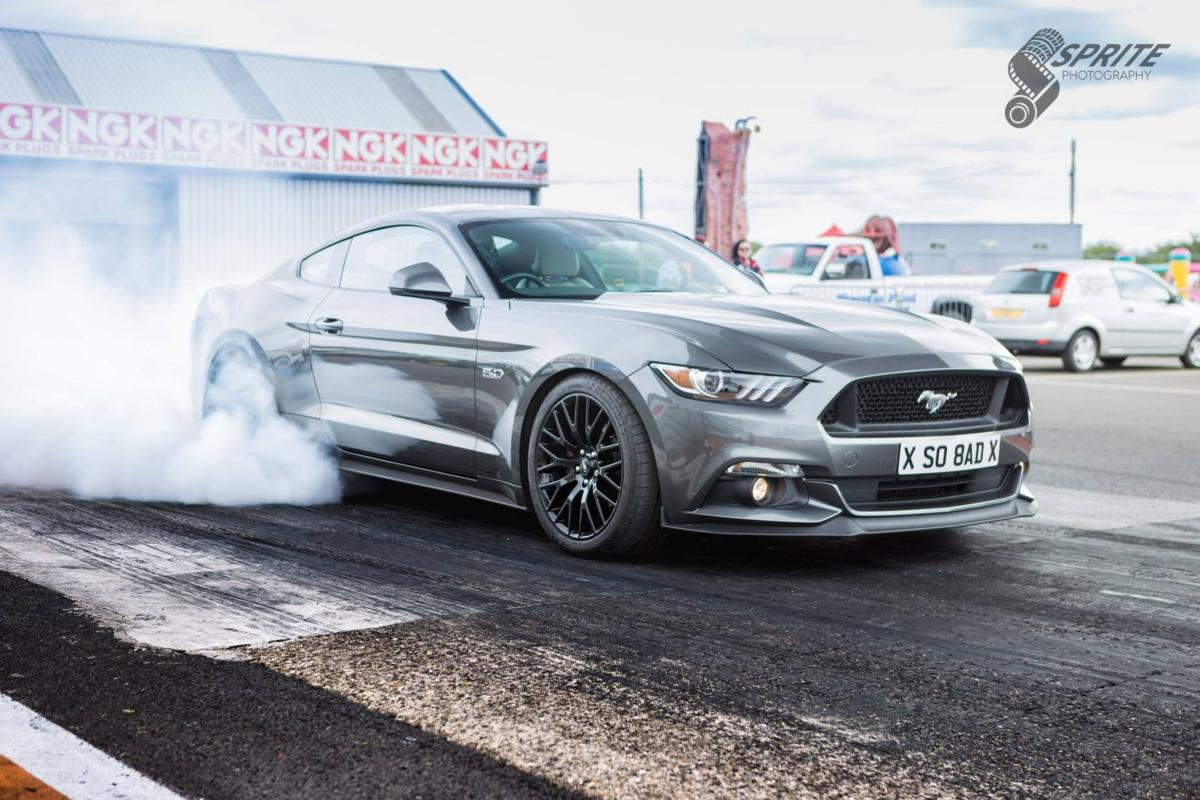 Owen's Drag Supercharged GT Mustang
As you may have seen from our various other blog posts, the Mustang has a long and well-documented history on the drag strip as well as the race track - a legend that continues today with the Steeda Silver Bullet setting World Records regularly, as a 2018 model 10 speed auto with NO forced induction, and here in Europe, with two Steeda customers, Richard and Owen,
taking TWO of the top four positions at Santa Pods' Run What Ya Bring Championship
,
including the win.
Here is a feature on Owen's car, which looks fairly standard from the outside, but regularly puts the smackdown on unsuspecting rivals at Santa Pod!

Owen's weapon of choice is a 2017 5.0 GT, with power duties being generated by a Roush 2.3 litre supercharger with 80 mm pulley, phase 2 kit with 1000cc injectors, and uprated fuel pump.

To help vent all that angry exploding petrol he has chosen a set of Kooks long tube headers, finished off at the back with a Borla s type exhaust, and custom mapping of engine and auto transmission by VMP performance of Florida,

Dyno day saw a nice 800 bhp at the flywheel translating to about 700rwhp. with 856nm torque twisting the wheels. To help add some more spice, he has fitted a Wizards of Nos fully programmable nitrous system for up to around 250 bhp of extra go, only used around 60/70% of that in 3rd/4th and as little as 25% in 1st/2nd gears. Anything else is secret and the mapping for the nitrous delivery was done personally by Owen and has taken around 50 odd passes to get right.

To help deal with all that raw force, Owen has fitted a Ford Performance diff with traction lock lsd, a 3.55 gear set, and Ford Performance one piece half shafts.

To put down that power through the tyres he has chosen to use a full Steeda "Stop the Hop" kit including subframe alignment braces. Standard 19" wheels with Mickey Thompson 185/35 street ss/et radials for the strip, Michelin pilot sport 4s for street use. Owen told us that once he added the Stop the Hop pack he noticed a radical improvement in how the car behaved pulling away from the line.


Other suspension mods include Eibach anti-roll bars front and back, and Ford Performance suspension all round.
Owen tells us there are other mods planned over the winter of 2018 and he is confident that they will make the car even faster.
Remember that this car is a full weight factory interior car that's driven every day in all weather and traffic conditions, has done 26,000 miles in 16 months without ever missing a beat, and has no more maintenance than fresh oil, filters and regular services every 5,000 miles. She runs on nothing other than either momentum 99 or VPower, uses an octane booster for safe running with the nitrous when racing, and that's it. I guarantee she'll run under 10.5 seconds in 2019 and with 60 ft times of 1.6 seconds, I'm guessing at 0-60 of well under 3 secs. Go Owen!
Owen's car may be somewhat of a sleeper but his racing stripes and custom rear deck, plus nice personal plate, make sure that once you recognise it, you'll know that's one bad pony!
Good luck in the 2019 season Owen!  We know that the 2018 Champion, David Kinghorn in another Steeda equipped Mustang, will be back to try and defend his title too. Let's hope we can secure BOTH the top 2 positions next year! Or if anyone else wants to join the fun, perhaps an all Steeda Mustang podium can be achieved? Who wants to step up to the job?
You can find out more about the
Run What Ya Bring Championship at the Santa Pod website HERE
And if you want to learn how to generate smoke as effectively as Owen then perhaps take a look at our Line Lock Academy video below! 
Did you know that Line Lock is a built-in feature of the S550 Mustang allowing controlled burnouts with ease?
LINE LOCK ACADEMY WITH STEEDA UK
If you want to see what your Mustang can do, join us at our next Steeda Driving Experience - on June 21st 2019.

And if you hit the strip, whether for fun or for serious competition, then remember to post up your times and stats on our EU DRAG BOARD.
Think YOUR Steeda equipped Fast Ford deserves some recognition and a feature car spot of its own? Well CONTACT US and if we agree we can make it happen!