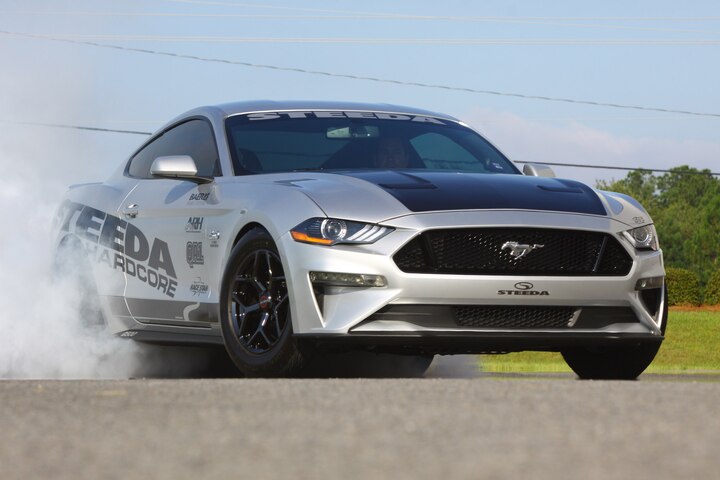 Steeda's World Record "Silver Bullet" Drag Development car - 2018 GT 10 Spd auto
Steeda's resident drag racer (and head of production) Scott Boda decided that Steeda's drag fans wanted to get in on the Q500R action at the drag, but this time the straight track that counts for 1/4 mile only.
Getting the OK to begin development the Steeda team wanted to see how far an all motor NA 2018 Ford Mustang GT could go on the drag strip with bolt on mods for Steeda and our partners, combined with the opportunities the new 10 speed auto box gave.
An ingot silver GT was purchased, christened "The Silver Bullet" by Scott and work began! Results were immediate and very quickly it made its mark as the first NA 2018 Mustang to hit the 10s on the strip, and with stead development the times kept tumbling, now deep into the low 10s with eyes fixed on a possible entry into the hallowed ground of single digit racing! Is an all motor 9 second quarter mile even possible I hear you ask? Well Scott wants to know too, so stay tuned!
Engine wise very little has been done to the car save a new Steeda closed intake with Steeda tuning, mated to a Cobra Jet intake manifold and large single blade throttle body. Expelling air comes courtesy of some long tube headers mated to a Steeda catback exhaust and the drive train is uprated with a QA1D carbon propshaft and a trick Circle D torque Converter, putting it down via a 4.09 drive via Ford Performance uprated half shafts. Power goes to turn Race Star Recluse Black chrome wheels in 17x4.5 up front and 17x10.5 out back, wearing Mickey Thompson drag tyres with special Baer drag brakes to allow a smaller wheel and save weight.
The ability to actually put down that power and launch hard of course all comes from Steeda's own hard work with the Mustang's suspension, something we have been perfecting for over 30 years. A Steeda Stop The Hop pack is of course the obligatory starting point combined with Steeda's Pro-Action adjustable front coilover struts (PN 555-8170) with a drag spring ratio (PN 555-8170-125), Pro-Action rear shocks (PN 555-8156), rear drag springs (PN 555-8232), billet rear camber arms (PN 555-4127), IRS urethane differential inserts (PN 555-4443), and billet rear shock mounts (PN 555-8152).
The results are truly impressive, and it means that ANYONE out there can copy the setup fairly easily: ""In all my years in this industry I have never seen a street Mustang with so little invested in it go so quickly down a dragstrip," says Glen Vitale, Steeda's V.P. of Operations.
Here is a video of one of the record runs followed by a fun visit from a Steeda customer visiting the team and trying out the Silver Bullet!
Read more, and some quotes above from article taken from:
"http://www.mustangandfords.com/features/1810-steeda-autosports-silver-bullet-runs-its-way-into-the-mustang-record-books/"
Think YOUR Steeda equipped Fast Ford deserves some recognition and a feature car spot of its own? Well CONTACT US and if we agree we can make it happen!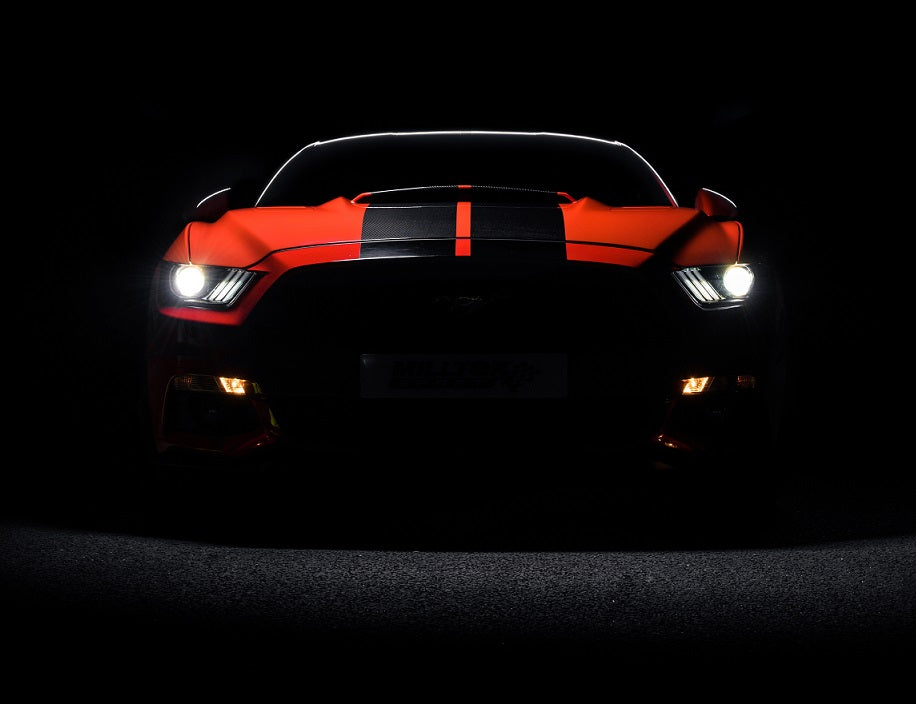 Feature Car
One of the UK's biggest hitting aftermarket performance companies and a natural partner for Steeda UK, Milltek lost no time in getting a development Mustang so they could begin to work their exhaus...
Read more