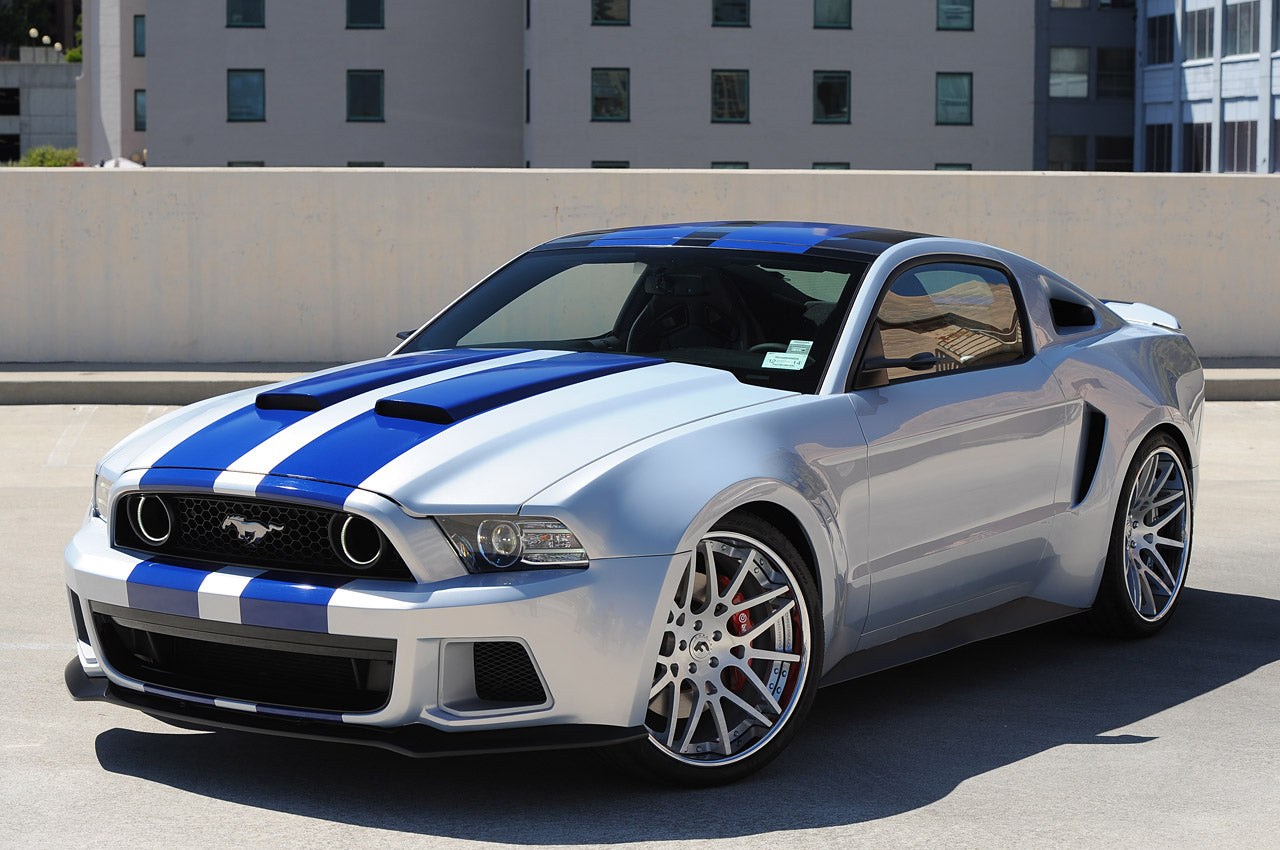 Steeda "The Need for Speed Matters!" - NFS Feature Film Mustang Hero car!
You may remember summer blockbuster "the Need for Speed!" featuring a specially constructed and modified wide-body GT500 hero Mustang.

You may also know that the film eschewed CGI for ALL live action stunt work.

But did you know who Ford and Hollywood turned too when they need to create a killer action Mustang with suspension that can deliver incredible handling and amazing durability? Now you do. It was Steeda.  
The movie is filled with action packed stunts and fast-paced driving as the starring Mustang holds its own against a variety of supercars from around the world. Steeda Autosports was actively involved with the preparation of the movie, supplying all of the various upgraded suspension components that turned the stock Mustang into an asphalt-carving performance machine.

When you need a car to hold up to the rigors of abuse and harsh performance driving that is demanded by a thrilling action packed Hollywood movie, you can count on Steeda Autosports to provide the level of performance and reliability that can take the most severe punishment possible… on the street, track, and even in a Hollywood movie! The Steeda components on the "Need for Speed" Mustang are identical to the parts we manufacture and sell today – and you can get them at Steeda UK. We only tend to hold EU edition car parts in the UK, but we regularly bring over S197 parts to order for customers from our VAST selection available. You can browse them all on our home site STEEDA.COM

Steeda suspension parts used on the Need for Speed Mustang included:

Steeda Coil Over Assembly
Steeda Panhard Bar
Steeda Upper Control Arm
Steeda Upper Control Arm Mount
Steeda Billet Aluminum Control Arms
Steeda Adjustable Front and Rear Sway Bar Assemblies
Steeda Control Arm Relocation Brackets
Steeda Rear Axle Relocation Brackets

Below: The Steeda Team hard at work creating the hero!


For the lovers of speed, Need for Speed is loaded with both crashes and car chases. Best summarized as a high-octane epic, this exciting and often funny movie more than delivers enough intense car chase entertainment to keep gearheads ecstatic. With its car chases, crashes, wild jumps and gas-guzzling sense of adventure, the film is a throwback to car classics such as Bullitt and Vanishing Point. But it's all delivered in a very smooth and very modern style. Check out the film trailer:
It is a story that chronicles a near-impossible cross-country journey – one that begins as a mission for revenge, but proves to be one of redemption. Based on the most successful racing video game franchise ever with over 140 million copies sold, "Need for Speed" captures the freedom and excitement of the game in a real-world setting, while bringing to life the passion for the road that has made our love of cars so timeless.
So make some time, and make sure you go to the theater and watch Need for Speed – it is a thrilling movie that definitely delivers Mustang excitement. And if your S197 Mustang has that "need for speed" – visit www.steeda.com for all your performance part needs. If your S550 UK/EU mustang needs "The Steeda Difference" just browse our Mustang parts shop or CONTACT US for advice.:
Think YOUR Steeda equipped Fast Ford deserves some recognition and a feature car spot of its own? 
Well CONTACT US and if we agree we can make it happen!