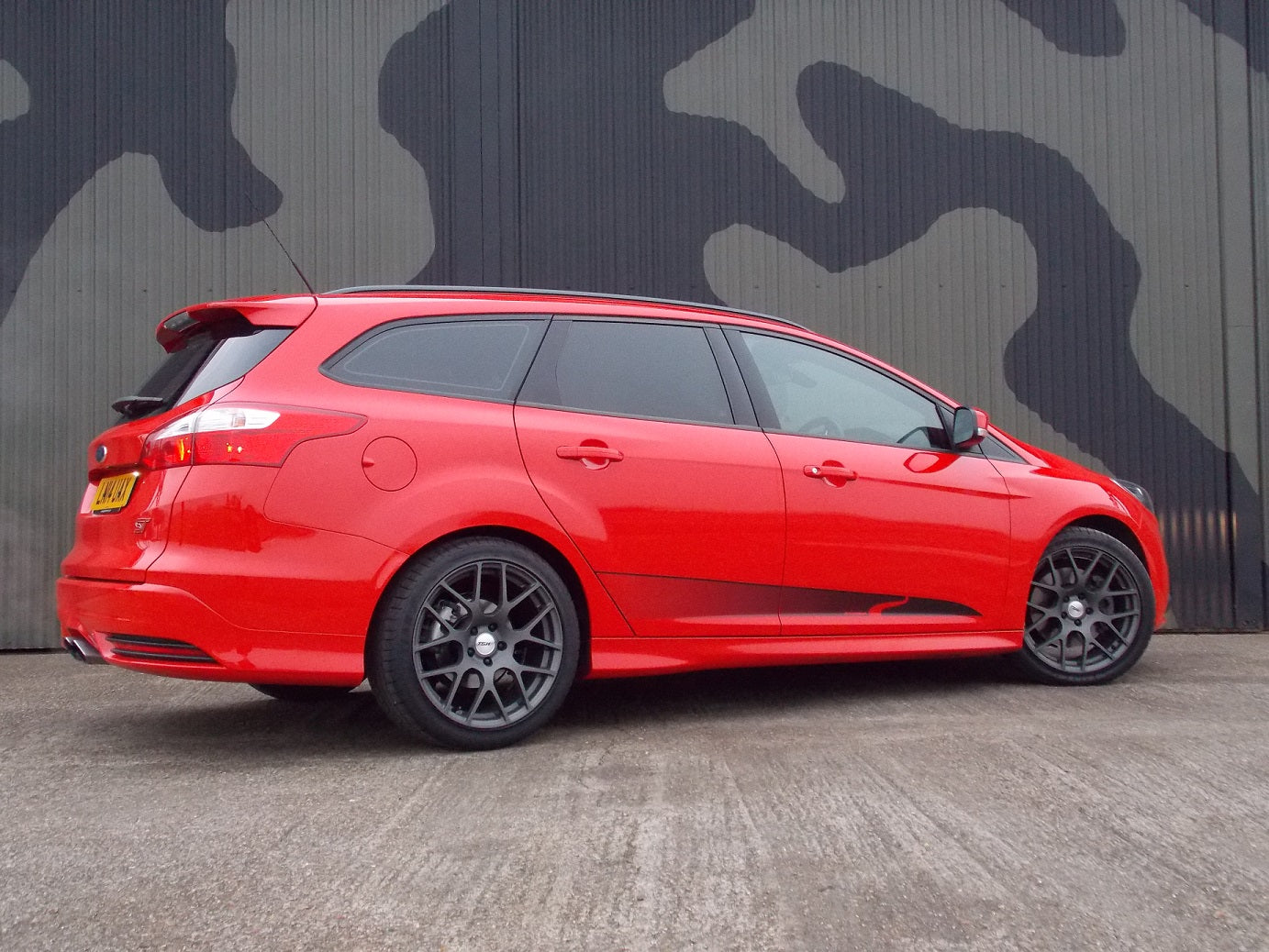 We started with a plain ST1 Focus ST estate, to give Ford's daily "performance all rounder" a little bit of the Steeda treatment. We kept with the idea of an ST being a daily all round car, so we didn't go crazy, just enough to give it the "factory plus" treatment that Steeda is so famous for....

We picked her up as an ST 1 in plain Race Red, and in estate form as we thought it was more practical for hauling Steeda goodies to shows etc and also because frankly we thought the estate looks knock out!

After some test drives stock and a little run out at our favoured testing ground at North Weald airfield we knew what we liked and what we didn't....
Our North Weald sprint test showed that grip was virtually non existent, instead being replaced by copious wheelspin, and also highlighted the extremely long throw of the gearbox..
These issues were addressed with the addition of a Steeda Rear Engine Mount to replace the extremely soft Ford OEM one. These were actually significantly stiffened by Ford in the facelift ST, but they still benefit from improving, but in the pre-facelift versions this mod is ESSENTIAL! 
Second we added a Steeda Short Shift Bracket an easy and affordable mod that will massively improve your every day driving experience. And that is what the ST is all about after all!
Of course if you are taking out the OEM airbox to install the shift bracket, it only makes sense to replace the airbox with some bolt on Steeda power.
We added our super effective "bolt on power with no tune" Cold Air Intake, which will give 10-15 hp with NO tune, unlike most intakes out there which just make a nice sucking noise and often harm performance. To add to the power tweak we also added our Steeda Intake Manifold spacer, which also gives a bolt on power increase and performs even better when combined with a Steeda tune. Which we did of course!
To finalise the simple power upgrade we added the Steeda Turbo Inlet Tube upgrade which removes the very restrictive OEM pipe. All combined we saw a lovely power return of a touch under 300 hp with a massively improved throttle response and torque curve. It even sounded a lot better too.
Our dyno testing showed us another thing. The Focus is in desperate need of an intercooler upgrade if you want to use it for anything other than daily driving. Big power or track use will easily overcome the stock intercooler and result in huge power loss to overheating. So that was added too! Combined with the Steeda CAI sealing off against heat soak, the problem was solved!
A Steeda billet oil cap cover, Steeda hood struts and a Steeda billet hood latch replacement finished off the engine bay tidy, making it more reliable and easier to get to and service, and of course look a lot better than stock!

Talking of looks we added some Steeda Sidewinder stripes to break up the expanse of red, and a set of lovely TSW Nurburgring lightweight gunmetal mesh style 18s, saving a ton of weight over OEM, improving handling performance all round and giving a lovely stance. We have since discontinued these wheels but have a couple of sets left in stock if anyone wants bag a great bargain! 
Suspension wise, we stayed totally stock which may surprise many, with Steeda's legendary commitment to suspension excellence, but we liked the ride height look, and we loved the comfortable ride. The handling wasn't super sharp but as a daily it was great. Also Steeda don't offer our own estate springs or a rear roll bar, so there was that too!  8)  (But we do supply Eibach ones so dont panic Focus ST estate owners! We got you!)
The same applied to the exhaust. Estate choices were very limited at the time, although we can supply estate options from Milltek for example, we loved the ST's very distinctive angular tailpipes and wanted to add changes where we thought the car needed them. We liked the sound and power and looks, so we kept it stock. But if you want more power we can certainly help with complete exhaust systems including downpipes....
Once the Steeda overhaul was complete we headed back to North Weald for another round of testing... All we can say is #SpeedMatters! What an improvement!!!
You can find listings for Steeda Focus ST upgrades HERE 
STEEDA TIP: The OBD ii port is very well hidden in the ST!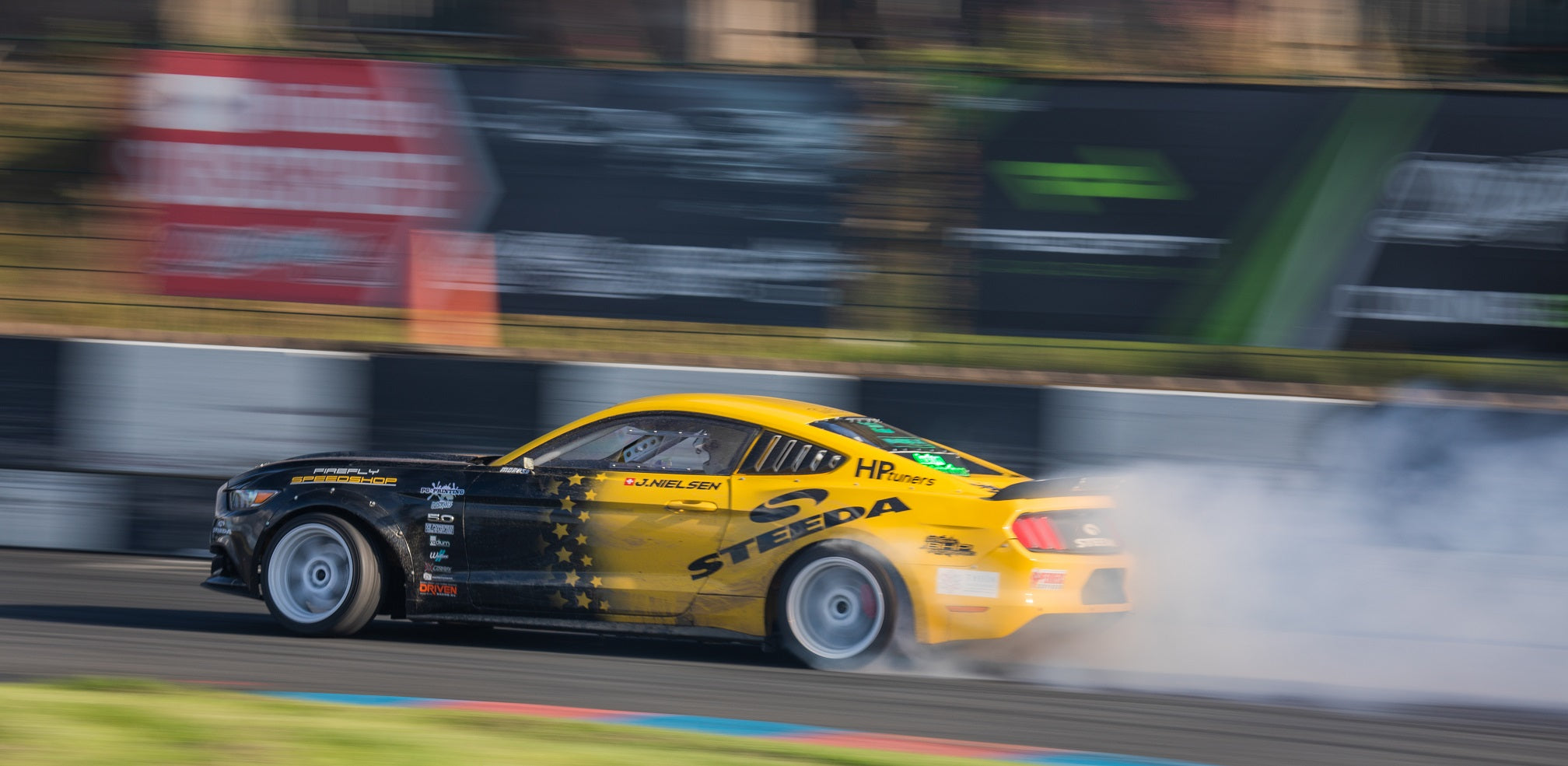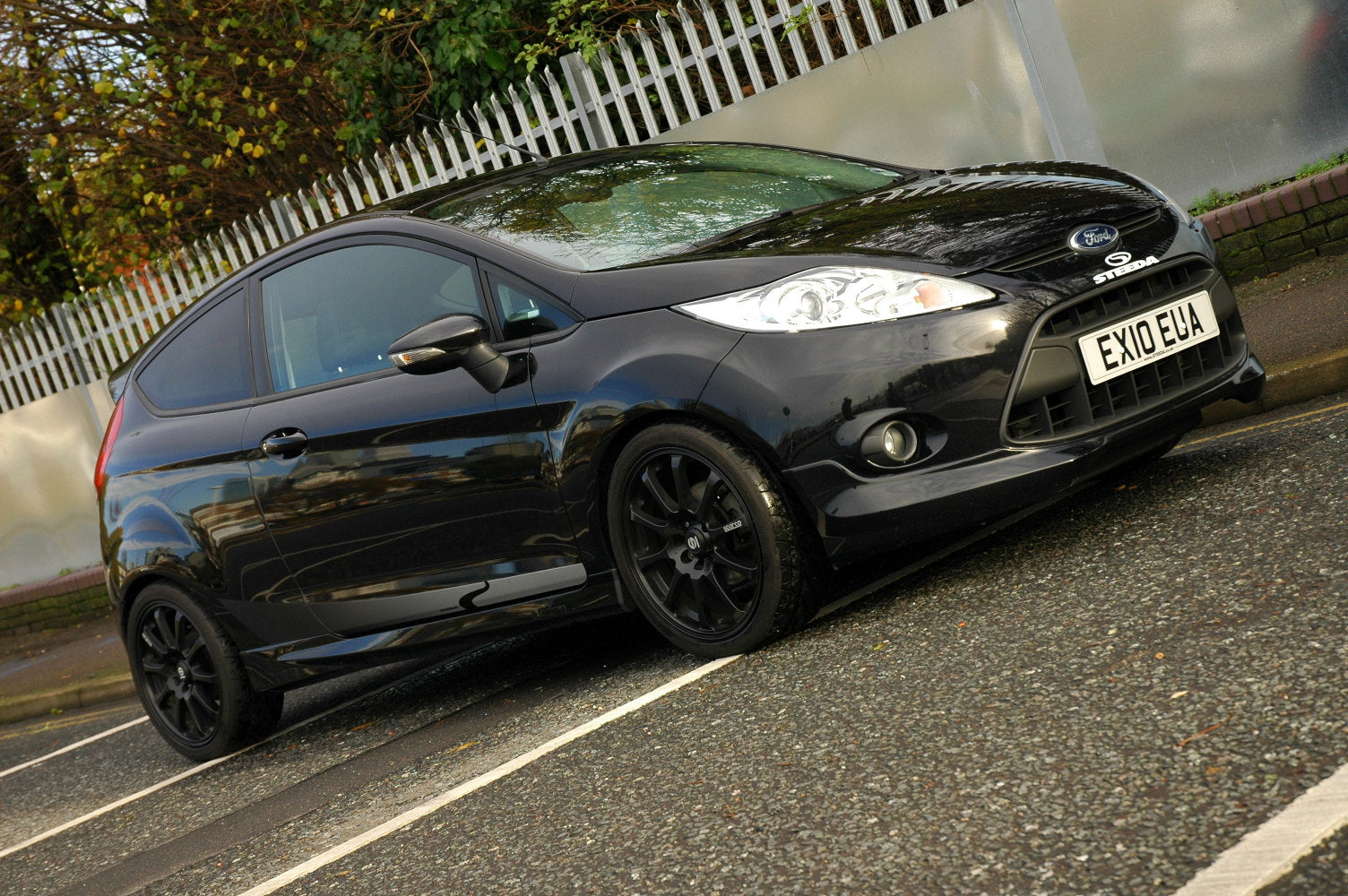 The very first car Steeda UK built, and now a perfect entry level car for the budding young Ford fan, Ford's Fiesta mk7 Zetec S with the petrol 1.6 ti vct engine has been overshadowed by the launch...
Read more