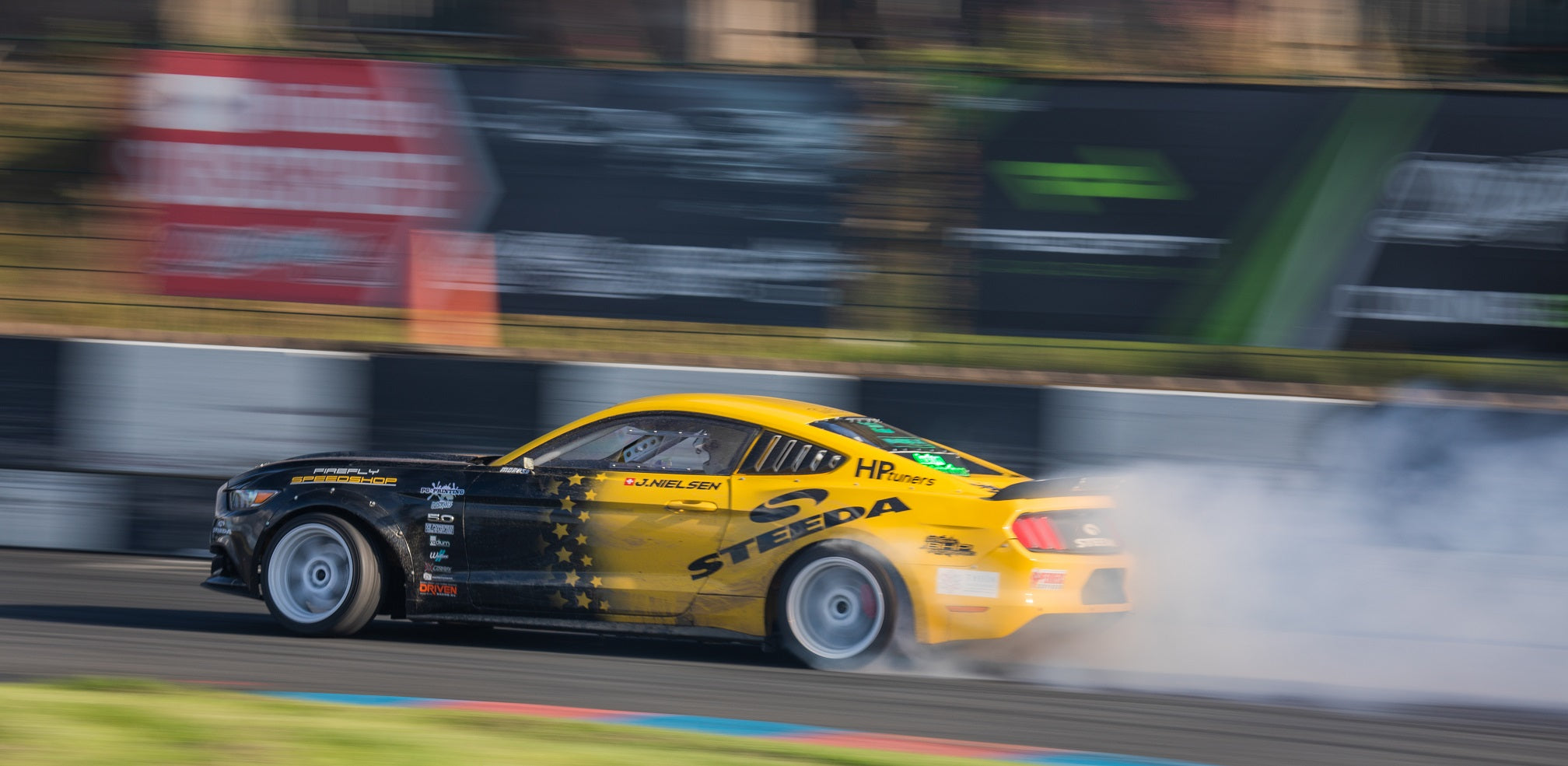 Custom Auto Fabrications Steeda Drift Mustang
Normally when you see a Steeda mustang on track it's either slicing through the bends looking for a lap time or a win, or blasting down the quarter mile as fast as possible. However, Jon Nielsen of Custom Auto Fabrications thought it would be far better to go through the bend sideways with tyres smoking! We agreed that would be pretty cool and set about working with Jon to create the first S550 GT Mustang Drift car. And what a car we made!
All images Courtesy of CAF, MAP and competition images courtesy of Beasy Media
To start with Jon wanted more better and "better power" from his 5.0 Coyote GT Mustang. We provided this via one of our legendary "bolt on power" Cold Air Intakes, linked to a 2018 spec manifold, with a VMP loom to give optimal performance, and Jon crafted a custom exhaust as part of CAFs business and then sharpened and honed the entire package via a custom tune from our dealers Motorsport and Performance delivered via HP Tuners hardware and software. Final engine enhancements consisted of Steeda Water Pump and Idler pulleys both for enhanced reliability, decreased rotational weight and of course because they look great!
Jon built the car all through the 2019 season but managed to finish in time to get one "shakedown run" in at the final event of the British Drift Cup at Driftland in Scotland.
Jon was so impressed with the power and delivery of the power that thoughts of a Whipple upgrade are on hold for now (but that leaves us with a huge power reserve whenever we want to step up!)
What makes the power delivery so great, and is vital on track for whatever use, is the ability to put it down reliably, consistently and effectively. Again that's where Steeda come in.
Jon anchored the roaring 5.0 V8 on Steeda Heavy Duty Adjustable Engine Mounts and anchored the rear end with our "HardCore" range of solid subframe bushes, sold diff bracket and diff bolts, as well as adding our IRS Subframe Braces. Ford Performance Toe Knuckles also helped in the rear. Shifting duties were taken car of by a Steeda MT82 Race Shifter for maximum control and sure shifting combined with a Steeda braided clutch line to soak up that drift punishment.
Stiffness was enhanced by a comprehensive roll cage fabbed and installed by Jon at CAF and then added to with Steeda Front Strut Tower Brace and also a Steeda G Trac K Brace as well as Steeda Jacking Rails for ease of jacking in competitive environments and further added stiffness and underside protection.
The main suspension work was provided by Pedders coilovers and Jon got the huge attack angles required for top level drifting by hooking up with a US drift team who kindly provided one of their custom front end kits. As you can see it works pretty well!
John has now upgraded the car with our brand new lightweight K-Member to reduce front end weight and allow to to control the front end better, which is crucial in drift and race / track applications... A huge weight reduction and more room to work with are the twin benefits of this install. You can see the difference in this picture john sent us.
And here it is installed:
If you need to turn your Fast Ford into something awesome, you need Steeda.
If you want to enhance your street car, then choose Steeda. Treat your blue oval to "The Steeda Difference". From a simple clutch spring all the way through to a full project car or race car build Steeda can help you. We know "Speed Matters".
Jon did and from a simple triple yellow GT shell he now has a fire breathing, tyre ripping beast under his control. Follow his progress in next years season. We can't wait!
Think YOUR Steeda equipped Fast Ford deserves some recognition and a feature car spot of its own?
Well CONTACT US and if we agree we can make it happen!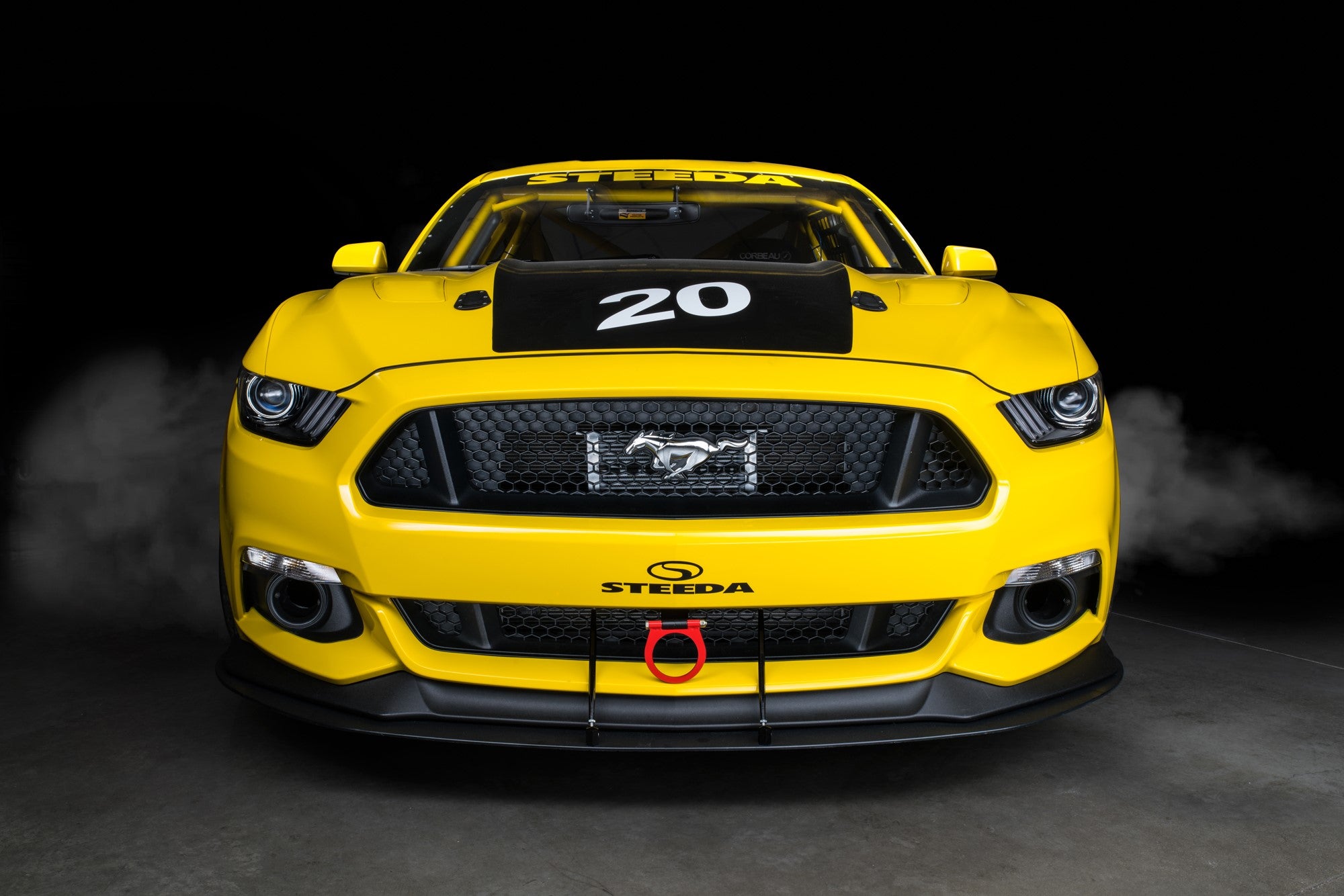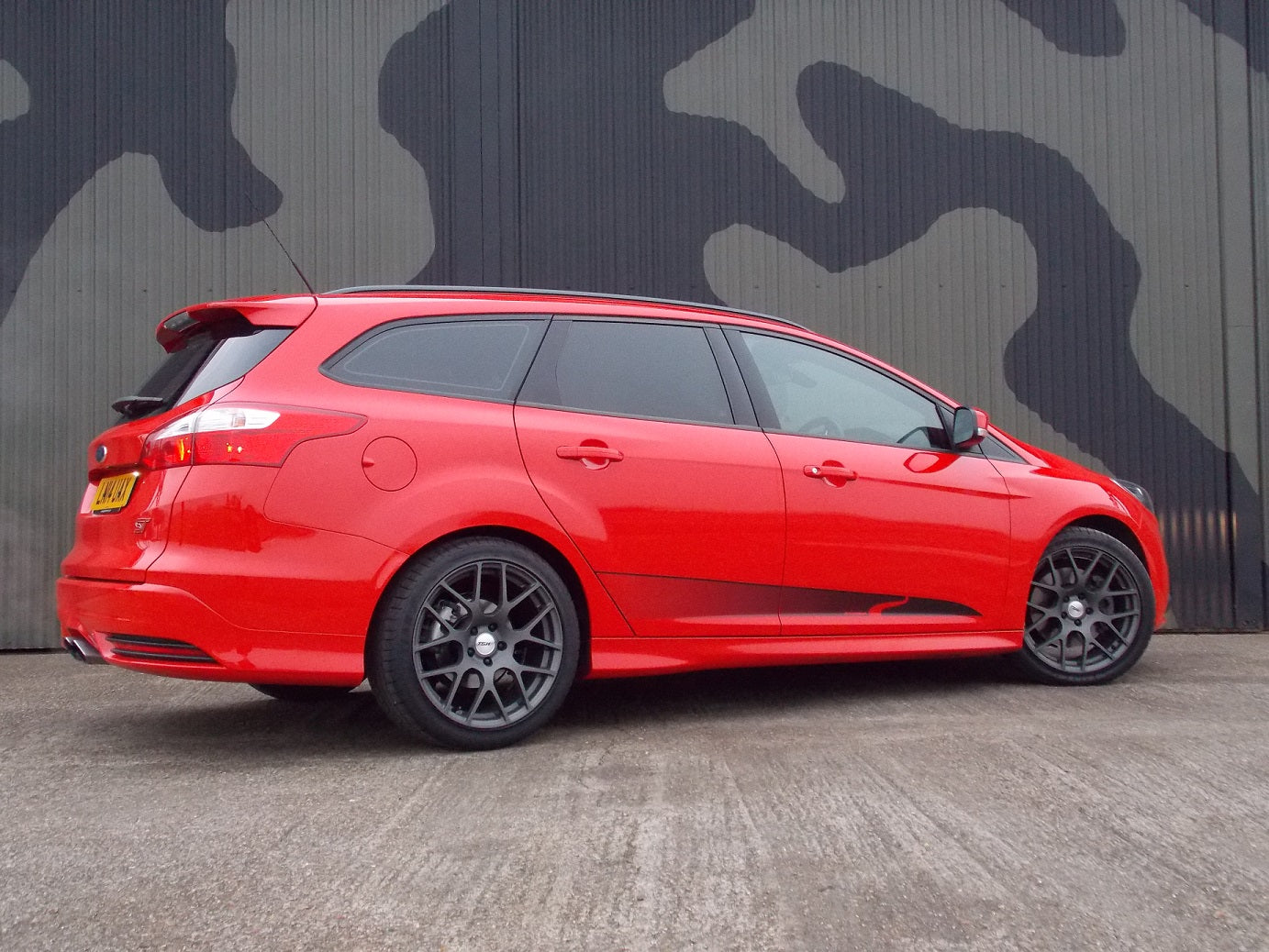 We started with a plain ST1 Focus ST estate, to give Ford's daily "performance all rounder" a little bit of the Steeda treatment. We kept with the idea of an ST being a daily all round car, so we d...
Read more