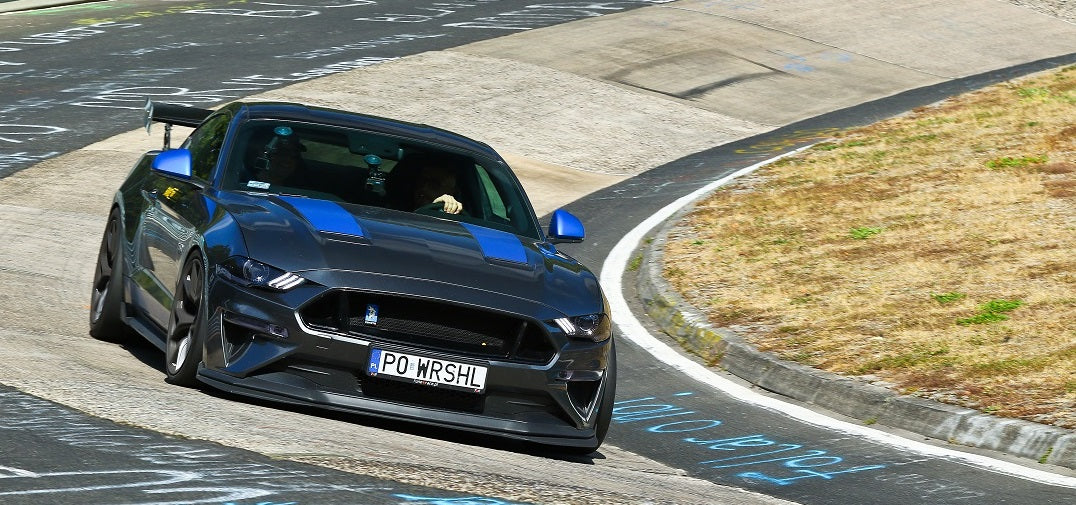 Piotr's Track Weapon 2018 Mustang GT
Steeda customer from Poland, Piotr Banas has a mission and it's one that is VERY close to Steeda's heart. It's to show that for Mustangs, Speed Matters!
It's a mission that started as soon as he had purchased his 2018 GT with the MT82 manual 6 speed transmission. And not only that it's a mission he shared with other Mustang owning friends in Poland and neighbouring countries. To show themselves and others what their Mustangs can do on track they set about modifying them and heading to the track. And not just one! They got involved in Vrace - the Central European amateur time attack series for American Muscle Cars. Website: https://www.vrace.pl 

Pic Below: Piotr (second from left) and Mustang crew at the Silesia Ring at a VRACE event....
Of course we at Steeda know that the Mustang is designed as a platform to be made into what YOU want it to do. You want a show pony? it can do it. You want a drag car? It can do it! You want a super capable track car? It can certainly do it!
Piotr set about his modifications with a real track focus. The first step was suspension and that of course meant Steeda and some Ford Performance mods too.
He has worked himself up to a comprehensive Steeda setup featuring the following parts:
Suspension:
Steeda Dual Rate "Ultimate Handling" Magneride Springs -555-8243
Steeda Adjustable Sway Bars front and rear: 555-1017
Steeda S550 Mustang Adjustable Roll Bar Endlinks 555-1042
Steeda IRS Subframe Braces 555-5754
Steeda Extreme G-Trac Brace 555-5533
Steeda Vertical Links (polybush for track use) 555-4129
Steeda IRS Bushing Support System 555-4437
Steeda S550 Mustang Front Control Arms with bearings(Lateral and Tension Links kit), 555-4909
Steeda S550 Mustang Bumpsteer kit, 555-8133

Pic: Piotr and Misha Charoudin riding the kerbs at the Nurburgring!
As Piotr's car came with Magneride, he initially opted to run with stock springs, then tried the Ford Performance springs, but the game-changer came when he switched up to our ultimate handling dual rates!
"I was trying to beat my personal best at my local track for a whole season on both the stock as well as the Ford Performance springs. As soon as I switched to the Steeda Dual-rate I beat my PBT in the first session!"
Piotr kept honing his car mod by mod so he can feel the change each system makes:
"My last set of updates were the Lateral and Tension Links kit, Bumpsteer kit and Adjustable Roll Bar Endlinks - right away I noticed a great increase of stability under heavy breaking on track.
The sway bars and braces made the car feel tight and nimble. The whole package really transforms the car and this feeling was validated by Misha Charoudin after his test drive at the Nurburgring".
That's right Piotr and some of the Mustang track crew headed to the Green Hell and also met up with Nurburgring legend Misha Charoudin, who took Piotr's stang for an epic lap of the ring. And he loved it!
Pic: Piotr and crew at the ring! 
Brakes, Wheels and Tyres
Of course if you are running on track, then stopping should be a key part of the package, so Piotr upgraded his pony with DBA T3 5000 2 piece front slotted discs and the T3 4000 one piece slotted rear discs. These are a great and affordable set up which by using 2 piece up front give a nice weight saving and improved heat handling characteristics, essential when pounding the track for multiple laps, or doing huge laps like the 20km+ Nurburgring! He matched the discs with some uprated performance pads , mixing some EBC RP1s on the front and Stoptech pads in the rear.
For wheels and tyres he looked no further than Steeda partner Michelin and their ultimate performance track tyre, the Pilot Sport Cup 2 which he wrapped around US Performance Pack 2 19" wheels with 295/35/19 up front and chunky 325/35/19 out back!
To aid with checking things out, swapping wheels, servicing and general ability to get involved under the car, Piotr fitted a set of the ever popular Steeda Jacking Rails (555-5212) 
The rest of the car has been tweaked where Piotr though it needed it.
Drivetrain:
The main drivetrain mods were enhanced performance via a JLT Cold Air Intake, Ford Performance Throttle Body and a Flowmaster Exhaust and sports cats, paired with a tune from Polish performance shop HD-Customs which pushed the GT to just over 500 hp. The gear changes are handled via a Barton shifter and Piotr uses an "Autoblipper" module to help with rev matching and the power all goes down through a McLeod RXT Clutch. Cooling mods include a Mishimoto radiator and a performance Water Pump kit. And of course that close control you need when driving hard is guaranteed via our ever popular Steeda Clutch Pedal Spring (555-7022) perhaps the cheapest and most effective mod anyone can do to their Mustang!
Visually there isn't much changed aside from the PP2 wheels and of course out back the "Big Wang" from APR Performance, some tastefully applied blue contrast points on the sides, bonnet and wing mirrors and a nice set of good humoured stickers which as we know add a lot of horsepower. Especially the Steeda one!  8)
We certainly dont think its a fake track car! Piotr is putting in work and laying down times and having a good time doing it!
As Piotr says:
"This year we raced In Poland, Germany, Czechia, and Slovakia. Next year we plan to add another country to the mix. Almost everyone has some Steeda components."
Now THAT is what we love to hear! Speed Matters!
You can follow Piotr on instagram here: https://www.instagram.com/trioxin428
or watch his Youtube channel here: https://www.youtube.com/user/trioxin428
Think YOUR Steeda equipped Fast Ford deserves some recognition and a feature car spot of its own? Well CONTACT US and if we agree we can make it happen!