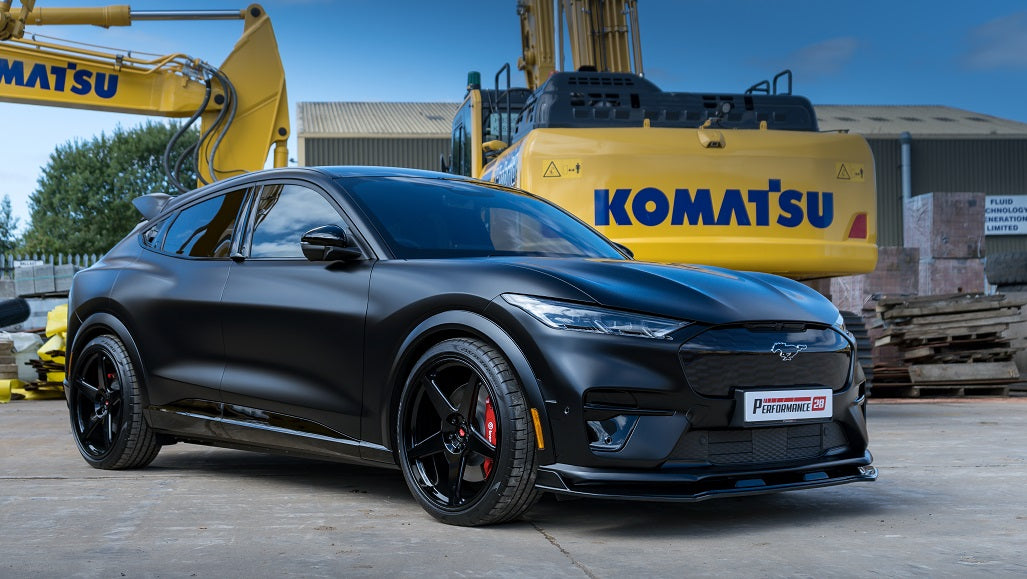 Performance 28 Mustang Mach E Demo Car
The Ford Mustang Mach E is an all new development for Ford motor company, and just like the original 64 Mustang, it's a game changer! The first mass market all electric car by Ford, it combines, style, utility and performance, just like the original Mustang. 
Ford have made sure that the Mustang Mach E GT brings real Mustang levels of performance out of the box, with blistering acceleration and a 3.5 second 0-60 time! And of course Steeda take things still further with a raft of modifications to come as our factory in Georgia USA gets stuck into our development GT!
Steeda dealers Performance 28 show just what you can do with a Mach E with their development GT, because what's one thing both Ford and Steeda know about Mustangs? It's that they are made to personalise! No real Mustang should stay stock, as they are about freedom, style and producing the car you want, whether its focussed on looks or performance, a race track or a drag strip, or even standing out at your car show!
Starting on the looks front they went all out with a set of 22" 5 spoke wheels, sitting pretty on Eibach Lowering Springs for a rugged stance. For the body styling, a bodykit comprising spoiler, splitter and high level roof spoiler,was added and then wrapped in an Expel stealth black finish with matching tinted windows for a menacing appearance.
To start to augment that thunderous electric acceleration and tame things through the corners a set of Steeda front and rear adjustable roll bars were added.
 Steeda Slalom Course Testing!
We know there is much more to come from Steeda and Mach E so stay tuned for more updates!
You can shop for your Mustang Mach E here: https://www.steeda.eu.com/collections/mustang-mach-e
You can find the Performance 28 Website here: https://performance28.com/