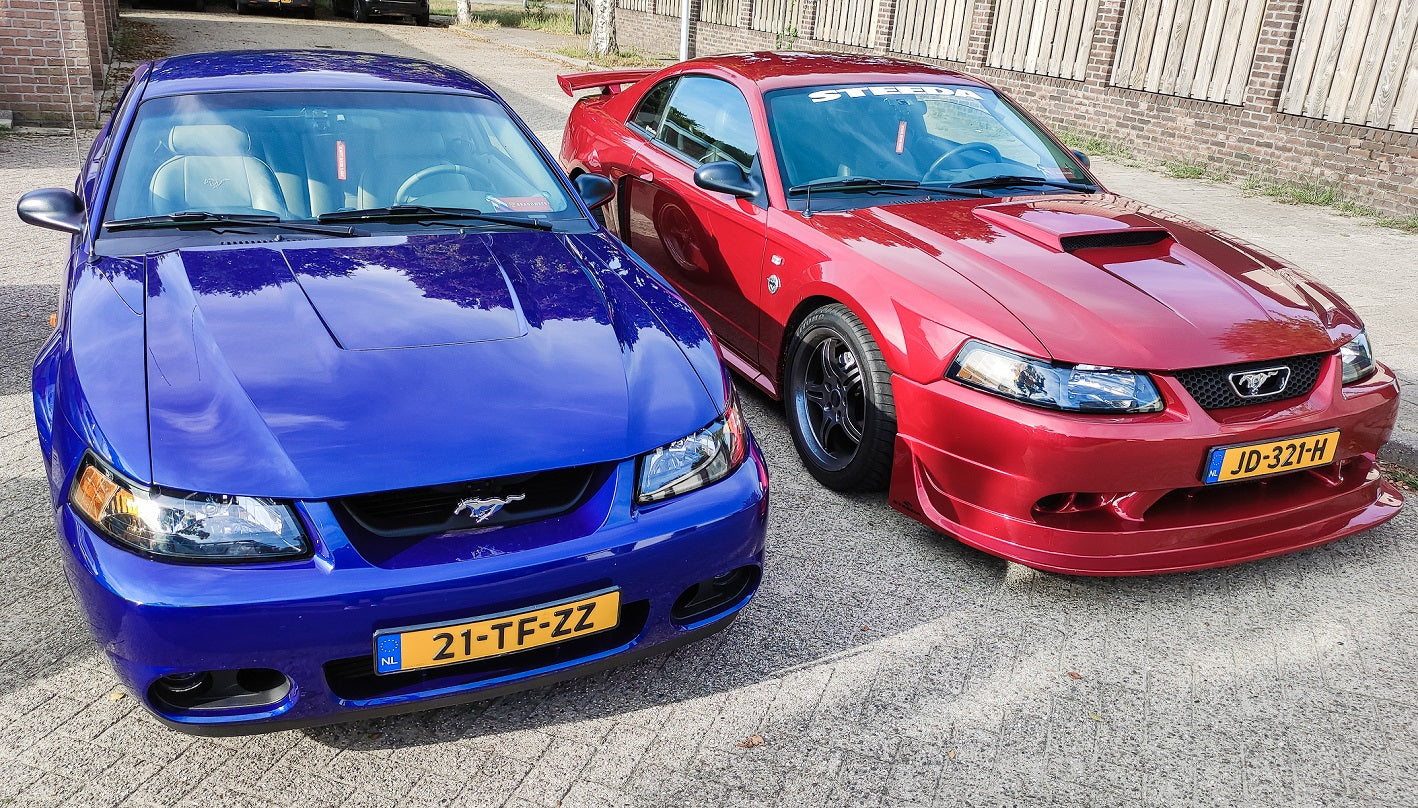 Denise and her Mustang Addiction - The Steeda SSV 2004 GT SN95 in Holland!
Now Steeda have a LOT of cool customers. But do we have any customers cooler than Denise from Holland? I don't know....

Denise is of course a Mustang lover. It's a given and its why she's a Steeda fan. She's from Holland, AND she loves to turn the spanners herself and work on her cars for enjoyment. Pretty cool I hear you say. But so do a lot of Steeda customers...
But Denise really loves Mustangs. She might only be 24, but she already has THREE! And one of them is a super rare Steeda SSV 2004 Mustang GT!
OK she's super cool. But come on, I hear you say... some other people might have 3 Mustangs and one of them is a Steeda SSV .... maybe?
Fair enough. But are THEY a Firefighter?? AND A Nurse!!!???
No I thought not!
We like this red car.. but we like her Steeda red car better!
Let's start at the beginning and let Denise tell her story:
"I've been a Mustang enthusiast since I was little. When I turned 18 I was able to buy my first car, which had to be a Mustang. After a few weeks of searching I bought a 1976 Mustang Ghia V8, which was imported from Florida. I visited a lot of meetings and events with this car, and really got involved in the Mustang community. When I bought this car I never really had worked on cars before, I had little to no knowledge about the technique. So I started watching Youtube video's and reading repair manuals to get some more knowledge. Little did I know that working on cars would become one of my favorite activities."
Denise carried on...
"Since I'm into Mustangs, the New Edge Mustang became my favourite generation, it's just something about the design of these cars that I really like. I started to read up on these cars, and dreamed of owning a Sonic Blue New Edge. When I was 21 a Sonic Blue New Edge was listed for sale. I did not need another car (I can easily cycle to work), and also didn't have much room to store another Mustang. But I got so hyped, I decided to go for a test drive. The choice was made easily, so I bought my second Mustang that day.

This Mustang really got me into working on cars. I wanted to build this car exactly the way I liked it. I made a lot of mainly cosmetic changes to the car, for example I installed other bumpers, a dual cat-back, lowered it, etc. I started using this Mustang as my daily driver."
Now Denise had a cracking daily, in her favourite colour of her favourite generation stang surely she was happy. And looking at it you can see why she would be....
But then fate came knocking again..... After all are two Mustangs really enough?
"The passion for the New Edge Mustang kept growing, and another dream started to arise. I kept saying that I would love to own a red manual V8 New Edge one day (my other Mustangs are automatics). Last year a red manual V8 New Edge popped up in my mailbox listed for sale. It turned out to be an official licensed Steeda Mustang. I was super excited about this car, and made an appointment with the car dealer. It was absolute nonsense to go and look for a third mustang, but I just had to. I wouldn't get a chance like this again anytime soon. Selling one of my other Mustangs was never really an option for me.

I went for a test drive in the Steeda Mustang, and got really overwhelmed by the excitement this car provided. Driving a manual Mustang is something different! The test drive was anything but a relaxed drive around town, I really did have to work in this car! The road holding was insane and the growl of the V8 even further improved the whole experience, I couldn't get enough of this car....

But after the test drive, I put both feet on the ground again. The Mustang was quite expensive, I did not have room to store it and it was absolutely not necessary. So the only thing remained was the dream of owning a red manual V8 one day, maybe in the future, and the desire to achieve that dream only got more intense…
But I couldn't get the car out of my head. After a few sleepless nights I decided to place a bid. Against my expectation the bid got accepted, and I bought my third Mustang at an age of 23! Luckily I fixed a place to store it within a week."
I mean who wouldn't want to bid on this beauty? 
The car had originally been imported to the UK from the USA in 2009, and the shipped into Holland in 2016. It was still in a pretty original state, except for some messed up wiring because of the lighting that had to be adapted to meet the UK import regulations, but Denise soon sorted that out.
The car's stunning looks are achieved with a Cobra R Front Bumper balanced by a Steeda Functional Rear Wing, with the rolling stock classic Steeda Ultralite 5 spoke 18" wheels, shod in 285/35R18 rubber front and rear, with the perfect stance provided of course by Steeda Performance Lowering Springs.
Handling is further improved with a Steeda Anti Roll Bar set up and a Steeda 4  Point Strut Tower Brace to tighten up front end grip and handling, while the power is tweaked with a Steeda Intake, Throttle Body and calibration.
The car has a Steeda shifter and just in front of the shifter gaiter you can see its Steeda SSV Plate.
Another Interior touch is the Steeda branded rev counter in the Dash..
So is Denise going to keep it as is? Of course not! She loves working on Mustangs remember!
"I owned this Mustang only since June 2022, and did some minor modifications. The Mustang was equipped with a Flowmaster exhaust, but I wanted some more growl and rumble. So the first thing I had to do was to add a Borla Stinger exhaust, which gives me goosebumps every time I drive this car. I've added some wheel spacers, rocker winglets, and did a LED conversion as well.
However, this week I received a huge shipping order. So I can finally start building this car. My plans are to focus on the cosmetic modifications at first, and add some performance mods later on. I'm planning on keeping the exterior quite original, since I really like the sporty look it already has. However I'll put in some new head- and taillights, do a grille delete and add a Cobra Terminator front bumper (which I'm planning on interchanging with the cobra R bumper every year). I'm also planning on a new paintjob since the paint is fading in a few spots. Lastly I would love to add a rear window louvre eventually, since my other New Edge also has one."
Denise's Steeda Project Just Received a New Injection of Parts!
In this picture you can really see "the Steeda difference" in style of the Steeda GT with its vented hood and aggressive front end....
Denise has plenty planned for her Mustangs (and who knows... by the time you read this she might have another one!) 
You can follow her exploits on her Instagram! @V8Denise
Let's leave the final words to Denise:
"The biggest project this winter will be a Cobra Terminator front and rear brake swap, so it will be safe to add some horsepower eventually. I can't wait to add some performance modifications, since this is quite new to me. I love working on the cars and gaining knowledge along the way. My main goal is therefore to have fun while working on these cars. I am in absolutely no rush and only work on the Mustangs when I feel like it.
I'm not really planning on racing the Steeda Mustang since I'm very careful with it. Although I think it will be super exciting to take it to a trackday or something like that once. This car is built to race, so who knows!"
We know! Speed Matters!
Think YOUR Steeda equipped Fast Ford deserves some recognition and a feature car spot of its own? Well CONTACT US and if we agree we can make it happen!