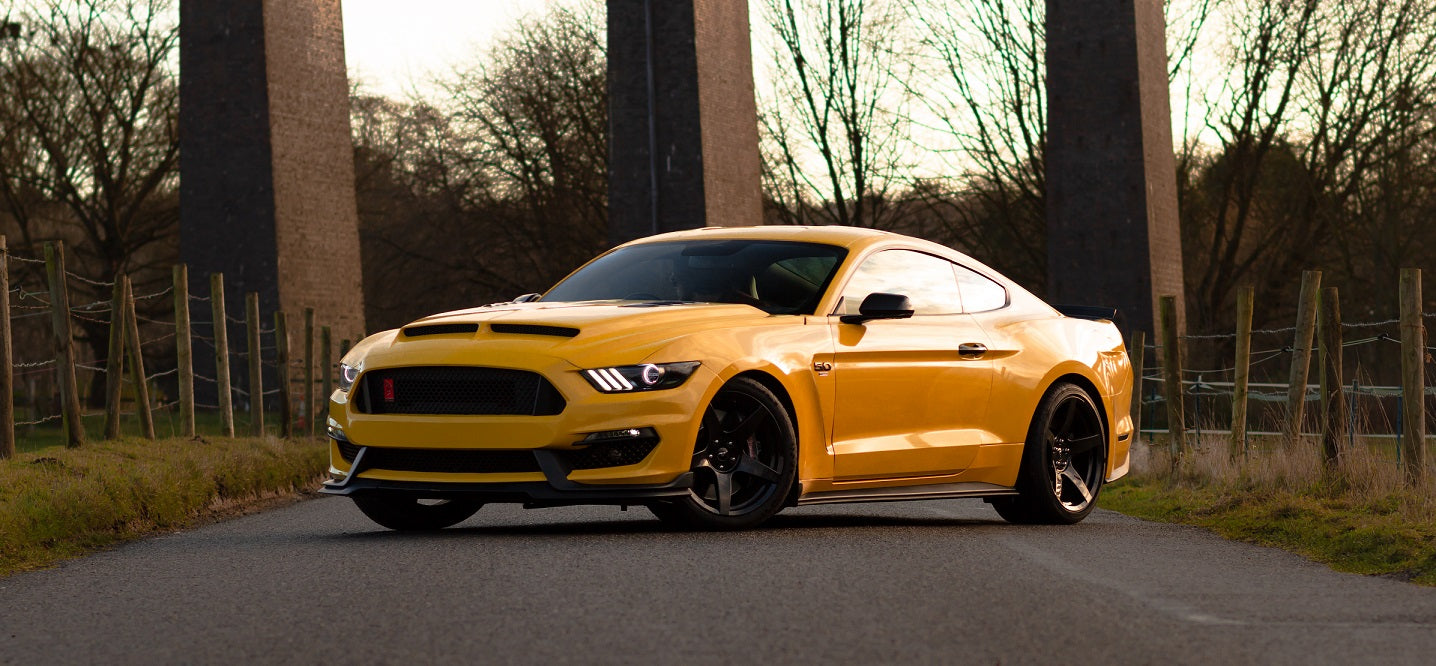 Lewis Triple Yellow Mustang GT
Lewis brought some brightness to the world with his triple yellow, flame spitting Mustang GT V8. Now even a normal Triple Yellow GT stands out, but once Lewis has given it a thorough working over alongside help and advice from our friends and official dealers at Motorsport and Performance then the car really came together!
The first step with any Mustang GT is always suspension and handling! So Lewis got the job done with a set of Eibach Pro Line Springs, combined with Steeda IRS Base pack, and a Steeda Front Strut Tower brace combined with a Steeda G-Trac K brace for ultimate front end control.
To add to the underbonnet looks and of course to boost those lovely horses from the 5.0 V8, he added a full raft of mods, starting of course with a Steeda Cold Air Intake. This was mated to a Ford 2018 Manifold controlled with the VMP wiring loom to give optimal performance and full control. Once the air was in it was all expelled via a Kooks headers with decats and a Borla S black tipped catback for maximum noise and drama! a MAP tune topped it off and the car sits happy making a healthy 520hp
Now he had a car with great handling and power, Lewis set about beefing up the looks to suit his taste and we think you will agree he did a great job, with a Cervini Ram Air Hood with direct feed to the Steeda cai.
GT350 style front bumpers and wings give added aggression alongside the smaller US spec mirrors, and RTR side extensions and spoiler bring up the rear, along with a blacked out GT badge...
MAP added some more drama with a Tribar conversion on the headlights with their amazing "etched logo" detail as well as some Diode Dynamics Demon Eyes, as well as smoked DD Sidemarkers at the rear. Also at the rear sequential indicators and smoked fogs / reverse light give a more custom look.
Like anyone looking to treat their car to something special Lewis finished it off with a set of wheels going with 6Grs as he wanted to stay at 19" and of course completing them with Michelin CUP 2 in a 285/35/19 and 305/30/19 combo. 
We asked Lewis for a run down on his car and here is what he had to say:
"I have been through a few different engine setups all done through MAP starting with a basic cat back and CAI to the flame throwing high revving street monster she is today.
This is my daily car, actually my company car I do a lot of miles in her and she drives as smooth if not smoother than when she was standard in fact I actually get better MPG now than when she came from Ford (not when you're on it obviously) this is probably one of the most used Mustang's in the UK.
One of the biggest differences I noticed was the Steeda IRS lockout kit (IRS Base pack - HERE) I didn't think it would make that much difference but Ben and the team at Motorsport and Performance said it was the 1st thing you should do to any Mustang and they were right! 
IRS BASE PACK: 
My other favourite mod is probably my new headlights! Having had them tinted heavily before on a very much form over function to get that same look but with a headlight beam longer than 3 inches is amazing! The guys at MAP did such a great job on the install as they always do on everything I have done there (it's a 3+  hour trip from my house to them)
The wheels and more importantly the Michelin 305 rear tyres have made a big difference in grip level over the standard setup! I can't stress enough how good tyres make it break a car having tried varying manufacturers on this car the Michelin in most formats wins! [We agree!]
My plan was always to keep the body stock but then I got offered the front end at a very good price by a now buddy of mine in fact 1/2 my car used to be his these days as he supplied the wheels and rear lights as well so the keeping it stock looking went out the window!  However I am planning on keeping the interior stock as I do like it a lot.
Have a few more mods planned like a Cervini Stalker Rear Diffuser is on its way and I wanna stick a set of cams in it and get the 500whp figure GT350 brake upgrade is also on the list! 
Plan was always and is still to stay NA as she is a daily street car and if you ask the boys at MAP what their favourite Mustang is I'm sure mine is right at the top of their list and they've produced a1000hp car and countless 800+ supercharged monsters."
We think its more than just the boys at MAP who like this car. It's a cracker!
Thanks for Lewis for taking the time to submit the pics and write up!
Pics courtesy of @wolfkingcars (Daniel Ciungu)

Think YOUR Steeda equipped Fast Ford deserves some recognition and a feature car spot of its own?

Well CONTACT US and if we agree we can make it happen!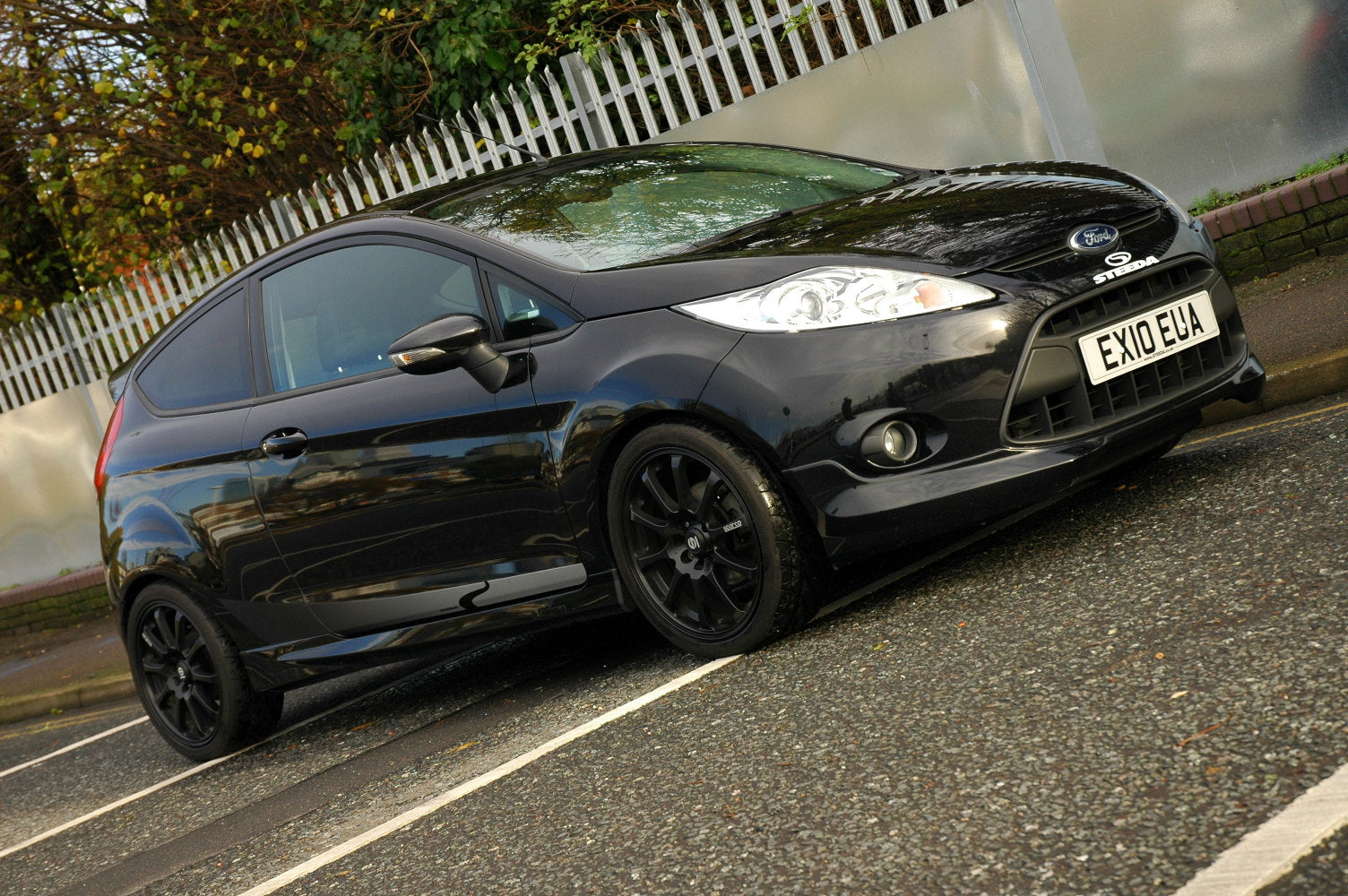 The very first car Steeda UK built, and now a perfect entry level car for the budding young Ford fan, Ford's Fiesta mk7 Zetec S with the petrol 1.6 ti vct engine has been overshadowed by the launch...
Read more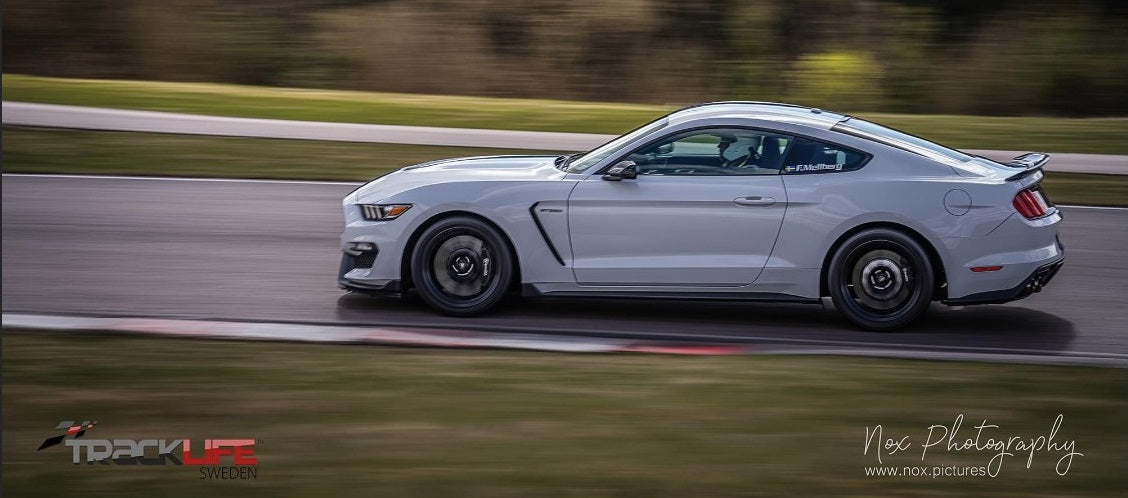 Fredrik from Sweden is a true Steeda customer in that he knows #SpeedMatters and that there is no better place to prove it than on the track! He is also no speed rookie, and came to his very specia...
Read more