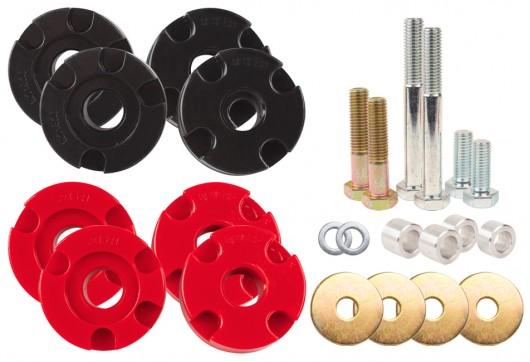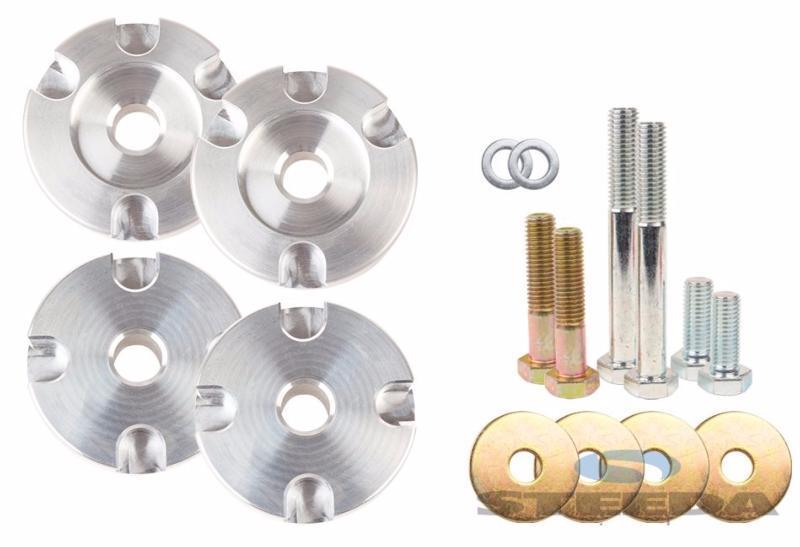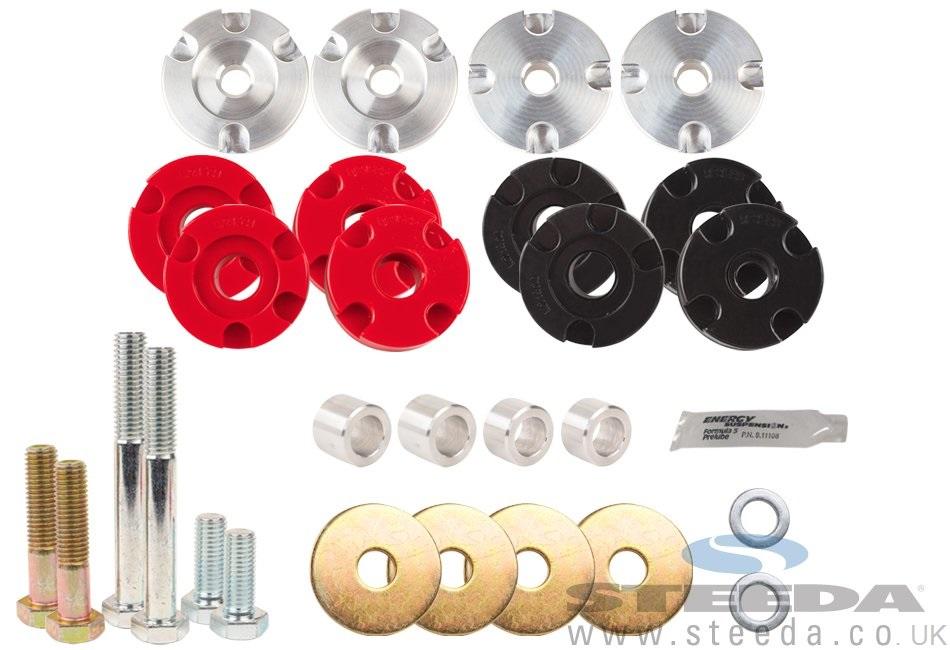 Steeda S550 Mustang Adjustable Diff Bushing Insert System
Part Number: 555-4443
Sale price
€159,71
Regular price
(/)
Steeda's Urethane Diff Kit installs in under 1 hour, with no permanent modifications, is adjustable & can be easily removed - it simply doesn't get better than this! Minimize pinion angle changes, increase traction, eliminate wheel hop & differential deflection with Steeda's new kit for the Ford Mustang GT or Ecoboost
5 in stock
1 in stock
1 in stock
1 in stock

Unlike our competitors' kits that will absolutely increase NVH (noise, vibration, harshness), take 3-4 hours to install and force you to permanently modify the rear IRS suspension with a sawzall, Steeda's does not! Steeda's Urethane kit installs in under 1 hour, with no permanent modifications, is adjustable and can be easily removed - it simply doesn't get any better than this!

Minimize pinion angle changes, increase traction, eliminate wheel hop and differential deflection with Steeda's new kit. Made from high-strength urethane to Steeda's exact specifications and durometers, our kit comes with 2 different bushing options - our red 'street' 80 durometer bushings and our black 'performance' 90 durometer bushings. Both bushing options will increase performance with some or no increase in NVH, a Steeda-exclusive. Mustang diffs can vary a lot so the noise impact can be pretty random! Some cars have noisier diffs from the factory, others less so...

However, if you really want zero compliance and a definite increase in noise, then we have the answer for you!!

Our Full Race option offers an Aluminium insert bush instead of Urethane, or get the best of both worlds with our "Street to Race" pack, which includes both options

Steeda's kit adds the strength and support the OEM bushings need to perform the way our customers intended. Once again, this is not a permanent modification - there is no drilling, cutting or pressing required. Simply loosen and remove a couple bolts and this kit installs in less than 1 hour. Bushings are included for both the front and rear differential mounting locations. Grade 10.9 hardware is included with zinc-plated washers.

Note: For hardcore enthusiasts that want ZERO pinion deflection, try our 555-4440 kit. This kit features aluminum bushing inserts. For race-use only as it will increase NVH and gear noise.

Product Benefits


Limits IRS differential movement while increasing traction and eliminating wheel hop
Some or No increase in NVH unlike the competition
Easily removable, not a permanent modification
100% designed, manufactured and made in the USA
Installs in 1 hour or less
Options to suit your need. Urethane for street use or hardcore Race / Track Aluminium set up.
The "Street to Race" Pack offers both so you can swap out the bushes for track days etc
Normally in stock

PARTS:
555-4439 - Street Urethane Diff Bush kit - GT V8 DISCONTINUED (OLD)
555-4440 - Race Aluminium Diff Bush kit: - GT V8 / EcoBoost
555-4442 - Street to Full Race Combo Kit - GT V8
555-4443 - Street Urethane Diff Bush kit - GT & EcoBoost
555-4444 - Street to Full Race Combo Kit - EcoBoost

INSTALL GUIDE- CLICK HERE

NOTE: NOT suitable for Mach One or GT350

Install Tip: For the 4443 kit: Red Bush = Street and Black Bush = harder performance focussed.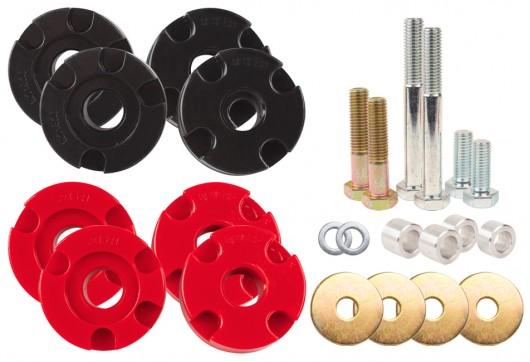 Steeda S550 Mustang Adjustable Diff Bushing Insert System
Sale price
€159,71
Regular price
Choose options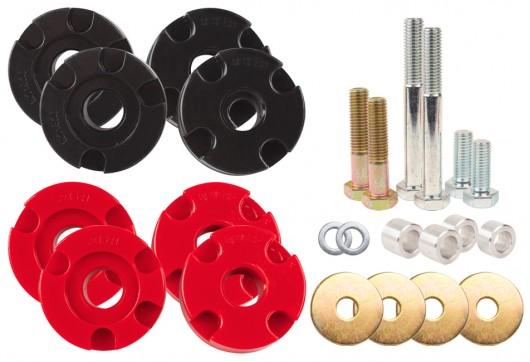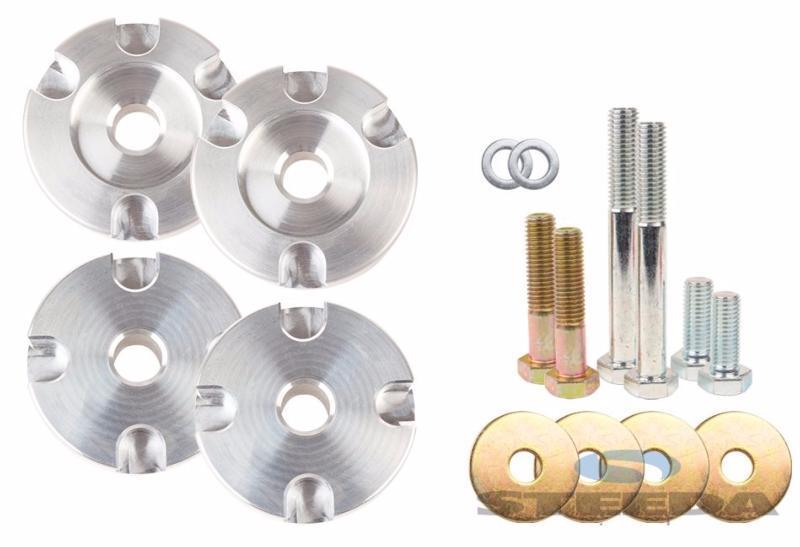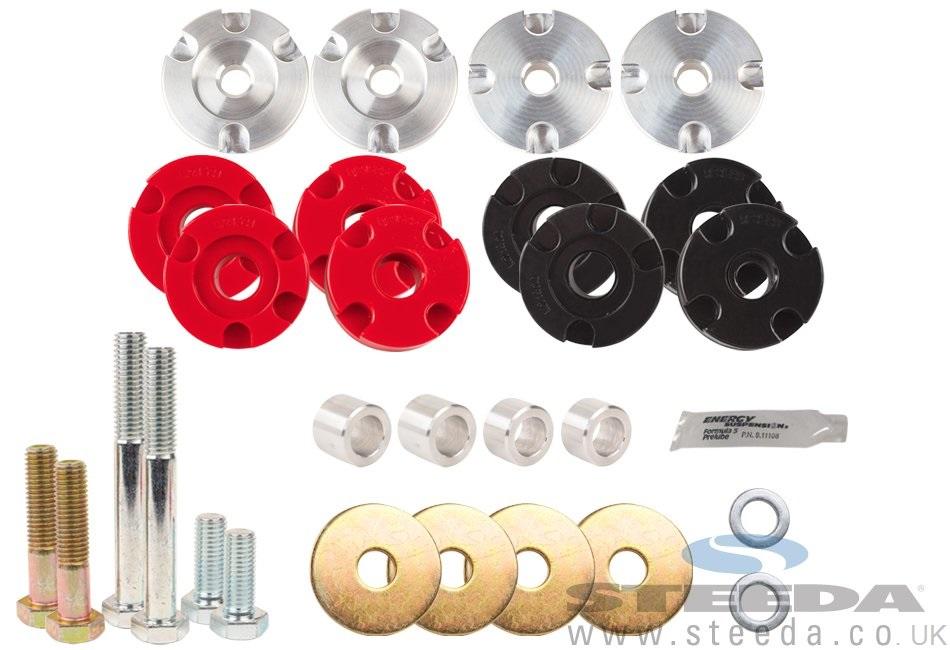 Sale price
€159,71
Regular price
(/)

View details