The Steeda Q500 was designed for hardcore, power-hungry performance enthusiasts who want the most Mustang muscle for their money, period.

It starts with the 5.0-liter aluminum block V8 that's a modern interpretation of the legendary Ford power plant. With a bevy of Steeda performance upgrades, this naturally-aspirated beast will churn out plenty of pure pony power to humble the competition.
Power means nothing without control, so the Q500 precision-engineered suspension and chassis modifications keep the driver in command and deliver the level of performance that make it an unbeatable combination delivering pure driving excitement.

Standard Equipment

Q500 Powertrain Upgrades

- Steeda 5.0L V8 Upgrade - 490 hp and 485 lb. ft. Torque *

Steeda High Flow Cold Air Intake System
Steeda Custom Performance PCM Calibration

Q500 Exterior Upgrades
Steeda Exterior Graphic and Badge Package
Steeda Front Chin Splitter
Steeda Aerodynamic Rear Spoiler

Q500 Suspension / Chassis Upgrades
Steeda G-Trac Suspension/Chassis - Stage I Package:
Steeda Front and Rear Sway Bars with "welded in place" solid Billet Ends
Steeda Billet Aluminium Front Sway Bar Mounts
Steeda Billet Aluminium Rear Sway Bar Mounts
Steeda IRS Subframe Bushing Support System
Steeda IRS Subframe Alignment Kit
Steeda Strut Tower Brace
Steeda Sport Progressive Rate Springs / Magneride Springs
Steeda Performance Wheel Alignment

Q500 Interior Upgrades
Steeda Serialized Dash Emblem
Steeda Illuminated Door Sill Plates


Suggested Steeda Q500 Enforcer Options (full range available)
Steeda Tri Ax Shifter (Manual Only)
Steeda Performance Catback with H pipe
Steeda Camber Plates
Steeda IRS Subframe Support Brace
Steeda Hood Strut Kit
Steeda Ultralite Jacking Rails


Steeda G-Trac Suspension/Chassis Upgrade - Stage II Package: "THE ULTIMATE SUSPENSION"

Steeda Adjustable Rear Toe Links
Steeda Billet Aluminium Vertical Links
Steeda Extreme G-Trac K-Member Support Brace
Steeda Rear IRS Subframe Support Brace
Steeda Pro-Action Struts & Shocks
Steeda Bump Steer Kit
Steeda Ultra Lite Chassis Jacking Rails


Steeda Ultimate Drivetrain Upgrade Package:

Tremec Magnum XL 6-Speed Manual Transmission (2.66 or 2.97 Gear Ratio) with direct mount Tremec Shfter,
"blow proof" steel clutch housing, 31-spline output shaft, race proven slip yoke rear interface
Twin-Disc Ultra High Performance Race Clutch Assembly
Forged Billet Aluminium Alloy High Performance Flywheel
Transmission / Vehicle Electronic CAN Bus Interface
Steeda Severe Duty 3" Aluminum Driveshaft Upgrade


Wheel & Tyre Upgrades

Velgen 20" Wheels - (20" x 9" front, 20" x 10.5" rear) with Michelin performance tyres, TPMS,
(Finishes: Black, Gummetal, Silver, Bronze)

The Steeda Q-Series Q500 Enforcer Mustang is available at Sandicliffe Ford, Nottingham where a dedicated team of Ford and Steeda enthusiasts will be able to assist.

See our DEALER PAGE FOR CONTACTS

EVO review & Top Gear review of the Q500:

EVO: 4.5 / 5

"....with a chassis you can trust and exploit, the Q500 Enforcer is far more entertaining and satisfying than any other Mustang we've driven.."

TopGear: 8/10

"It goes down a B road with way more control and precison than a standard car...you have confidence in it,...it feels very well engineered"

Pistonheads :

"[Steeda] deliver a Mustang driving experience few in Britain will have ever known....

....a vast improvement that makes the Enforcer immensely more satisfying to drive:
Inspired by the track
Engineered for the road
Steeda Q-Series Mustangs are the most uncompromising and best performing road cars Steeda has ever produced. Homologated and registered in the UK as a STEEDA Mustang, and NOT as a Ford, these incredible cars take the Mustang to a whole new level in Europe. Collectable and driveable, the Q-Series Mustangs are the perfect choice for the driving enthusiast.
Strategically engineered to meet the challenging demands of motorsports enthusiasts, every Q-Series Mustang is optimized for maximum performance by pushing the limits to the extreme – both on & off the track.  
The Q-Series Mustangs offers appearance & performance that is defined by being muscular, powerful and athletic making a clear statement of unrivalled performance at every twist and turn in the road ahead.
Pumped-up Mustangs not doing it for you? Then Steeda's more subtle changes could be the answer
A modified Mustang that's made better without monster power. No, really...
It feels tight and together on the road. Genuinely. It goes down a B-road with way more control and precision than the standard car.
ARGUING AGAINST THE STATUS QUO
Realizing that power means nothing without stability and control, the Steeda G-Trac Suspension and chassis modifications have been strategically engineered to break the performance boundaries of the S550 Mustang.   The result is a level of performance that makes for an unbeatable combination on the street, racetrack or dragstrip – all without sacrifice.
For our Steeda Q-Series Mustang, we have undertaken unprecedented measures focusing on dramatically enhancing the driving dynamics of the  S550 Mustang.  We have developed the most comprehensive collection of suspension and chassis upgrades of any manufacturer in the market today – that when taken together, provide power and control on a master scale that is unmatched.  With newly found impressive driving dynamics, the Steeda Q-Series Mustang provides a level of excitement and driving that delivers practically zero pitch and roll and a level of suspension refinement that has never been experienced in a production Mustang before.
The fitment of lightweight staggered 20" wheels and Michelin High Performance tyres round out the package and not only adds an aggressive look, but they also reduces un-sprung weight, further enhancing the performance and providing a far superior level of car-to-road adhesion.
INNOVATION & SPEED TECHNOLOGY
The Steeda Special Operations Team developed a proprietary Cold Air Intake system that incorporates an industry exclusive integrated billet aluminum velocity stack.  This feature dramatically increases and stabilizes the flow of cool incoming air to the engine and when combined with our performance engine calibrations, the results are nothing short of spectacular. 
Properly calibrating a modern Mustang is exceptionally difficult because of the increased complexity built into the vehicles electronics and the interconnected 22 different computer modules. We have successfully calibrated the new advanced Ford system and have developed and refined hardware and calibrations for both naturally aspirated and supercharged applications that provide a level of performance that is unrivaled in the industry today - all without compromising drivability or durability.  
We are the only aftermarket manufacture today that offers these increased levels of power with the delicate refinement needed for everyday driving.   From mild to wild, from street to track, our performance tuning provides sharper throttle response, intense power, and unprecedented performance – all delivering on the Steeda motto that says "Speed Matters®"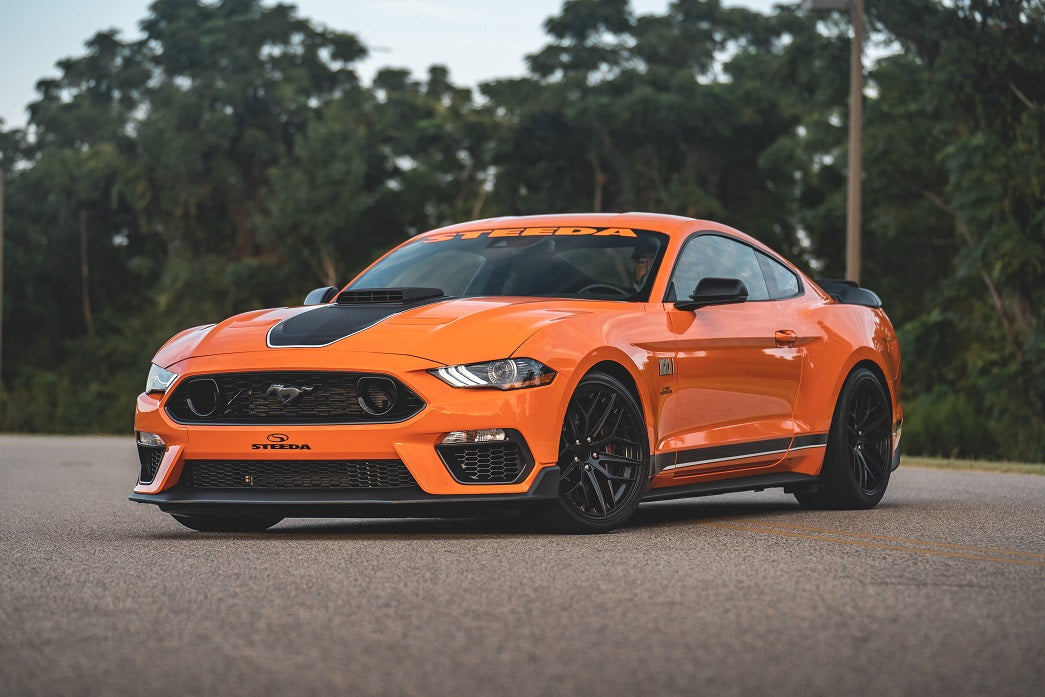 European Certified
After 10 years in development, Steeda have completed our European Certification working closely with Ford, the UK Vehicle Certification Agency and the Swedish Transport Authority, to deliver the Steeda Q767 Mach 1, and the Q500 Enforcer, The Ultimate iterations of the Mustang in Europe, fully homologated and certified for all European markets and able to be registered as a Steeda Mustang, NOT a Ford Mustang on your V5, creating a historic opportunity to own a truly collectable car.  At Steeda Europe, we are not only committed to providing exhilarating levels of performance, but for peace of mind, all S550 Steeda Q-Series Mustangs are covered by 3-year/36,000-mile warranties – your assurance of quality performance engineering by the leader in Mustang performance: Steeda Autosports.   
Our Steeda-manufactured performance parts are made under strict VCA & STA certified standards and are rigorously tested on the street, track, and dragstrip to provide you the complete satisfaction and confidence in owning the finest engineered and crafted performance Mustang available anywhere.  
The Steeda Q767 Mach 1 and the Steeda Q500 Enforcer are available at authorised Steeda SSV dealers in Europe and the UK.
Contact us to be guided to your nearest applicable dealer.