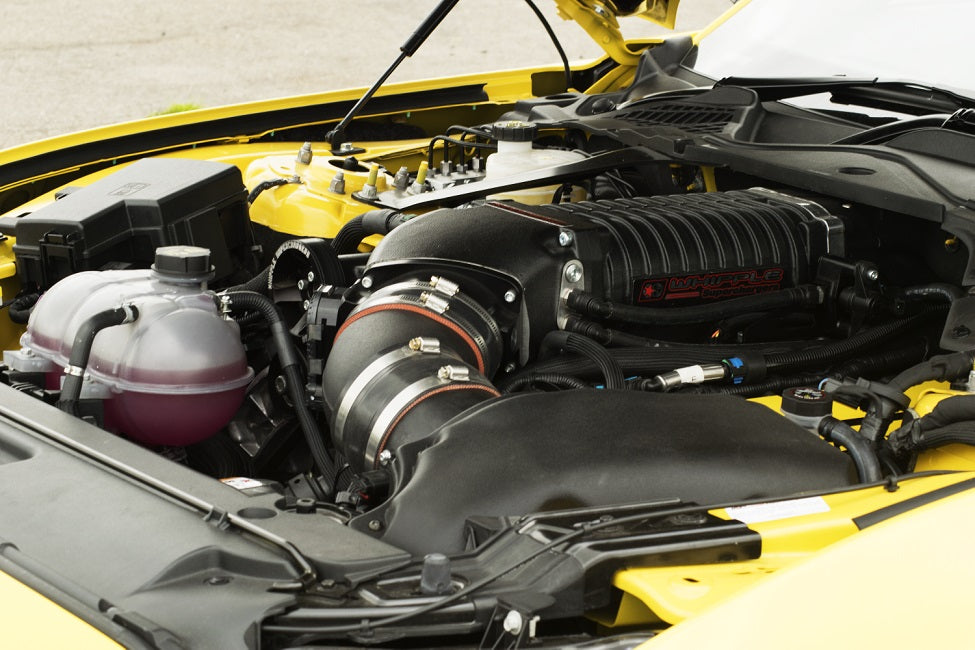 Why Choose a Whipple Supercharger?
Because POWER!!!
OK thats a simple answer but there is a LOT more to it than that. Steeda have worked with and chosen Whipple chargers for a long time and for a good reason. Great tech, and great results!
Lets take a look at some of the jargon and break it down for you:
Most powerful 50-state legal system available (base system makes 750 engine HP on 97 octane while the upgrade throttle body STG2 system makes 825 engine HP on 97 octane) - US figures..

No other upgrades required, just massive power right out of the box (nearly double the stock horsepower)
OK well that's pretty clear. See the first thing we wrote, haha!
Front entry W175ax (2.9 liters) Whipple twin-screw supercharger that significantly outperforms competitions 1.9L and 2.3L roots-type systems (front entry design can be up to 8% more efficient then a side/rear entry)

2.9L is 26% larger than 2.3L roots-type allowing lower power consumption and lower discharge temps to flow the same amount of air (more power to the rear wheels)
OK this a BIG reason we love Whipple. TWIN SCREW. Shelby GT500 uses a roots system for example. Twin screws are more efficient, better engineered and better for boost than Roots chargers. And being bigger helps too!
Front feed supercharger utilizes precision ground helical cut gears vs a problematic belt

Oversized Crusher™ inlet for maximum airflow capacity and minimal rotor cavitation (unique Roval 132mm inlet)
That huge throttle body on the stage 2 means you are ready to keep gaining more power later down the line with no bottle necks up front!
Front feed allows for oversized intercooler core compared to other smaller intercooler cores giving Whipple lower air charge temps which allows more boost and timing to be run on pump gas

Massive air-to-water aluminum bar-plate intercooler (over 33% larger than competition) offers more cooling than any other positive displacement system available, nothing comes close
Massive oversized aluminum intercooler reservoir (over 2 gallons) holds more than double any competitors IC water system allowing longer more consistent power levels vs. competition

High flow intercooler pump, nearly double the flow of the standard units others use

Whipple Superchargers massive oversized intercooled air-bypass system for industry leading reduction of burst knock and incredible fuel economy

W175ax SC bottom is open for increased plenum volume and better over-intercooler air distribution giving more intercooler effectiveness

Extra plenum volume below intercooler core for far less pressure drop and better use of the increased surface area of the massive intercooler core

Discharge down design allows for less pressure loss which gives more power at lower boost levels

Top mount design allows for cooler operation then upside down SC's that conduct heat from engine and are trapped by runners and covers, causing hotter manifold temps and less power per pound of boost

Oversized heat exchanger for incredible intercooler water temps, 150% more volume then competition, standard with every kit
Put simply when it comes to boost and big power, COOLING is essential, as hot = fail. Bad for your engine and bad for power. Hitting a big dyno number on one run is great but if you are crippled by heat soak straight after, whats the point?
Included OBDII flash tool, new Flare software and the new Flight Control technology

Flare software allows wheel/tire axle changes (A Whipple exclusive)

72LB/HR fuel injectors vs others 47LB/HR that others use which severely limits power potential
Stage 2 setups bigger injectors mean a lot more headroom, and safer big power numbers. Engines not only use fuel to go boom, but also to stop boom. In a tuning sense running out of fuel can mean coming to a halt and not in a good way....
 As a break from the tech talk, why not enjoy a tour of the Whipple factory!
Lets continue our tour of the kit now!
Self-contained oversized oil system for dramatically reduced oil temps in even the most demanding conditions

Exclusive 3x5 rotor combo for significant increase in airflow under the curve than less efficient 4x6 rotor combo or 4x4 roots

Center discharge port for better cylinder to cylinder distribution then other twin-screws with cobbled together billet adapters and forward facing discharge

More boost at the "hit" than any other twin-screw

Flat torque curve for incredible acceleration

Fits under factory hood with no modifications

No cutting or grinding on the engine block (Roush system requires grinding engine block and timing cover)

No cutting or grinding the K-brace (Roush system requires this to be removed or cut beyond function)

No internal modifications required

Completed installation looks factory installed, not some cobbled together kit with multiple billet adapters

Kits come complete with all necessary parts and hardware for installation
What we are saying here, is that Whipple know what they are doing. The installs look gorgeous, and as if they belong there. Years of experience, especially with Mustangs means that you can rely on the Whipple kits to perform out of the box.
Unique oil level sight glass for easy oil level and quality check, no dipstick to bind or misread

Plug and play wiring with male and female connections

Proven 6-rib belt system with heavy duty spring loaded tensioner and adjustable idler system

Stainless steel tapered jack-shaft with unique plastic cover (or optional carbon fiber) that allows torsional twist during racing applications

OEM quick connect fittings for easy installation, no ugly brass or steel fittings on the SC

Instant boost at the touch of the throttle

3 minute pulley changes

Easy belt changes

Lightweight pocketed aluminum SC pulley

NGK Iridium spark plugs included
Nothing exciting here, but that's what they mean. Whipple kits are easy to maintain and simple to own.
Optional 10-rib belt system with matching billet pulleys - recommended for track use or heavy duty users to avoid belt slippage

Complete kits and competition kits are available

Available in wrinkle black, polish, Ford textured blue or any custom color

Easily upgradeable with bigger intercooler pumps, bigger throttle body (132mm Roval elliptical), dual electric Spal 11" high speed fans, optional supercharger pulleys

3 minute Pulley Changes
Now this bit is exciting. What they mean is make the Whipple kit your own. It might be plug and pay if you want it to be, but if you want to build a drift car or a drag weapon or a crazy horsepower monster Whipple can help you. If you want a custom colour engine bay charger they can help you. If you want lashing of carbon for a high tech engine bay they can help you. Mustangs are about individuality AND performance and Whipple deliver both!
Just let us know, we're here to help you make your dream Mustang.....